If you've tired of the moisture out of the last days and you want some snow, Google It will fulfill the desire, at least on monitors. :)
It seems that Google He has made a habit of hiding little surprises for users in search engineAnd after the success they had with "do a barrell roll" last month, He thought it would not hurt and some thematic winter. The last "feat" brings snow in the homes of all those who make searches after "Let it snow" pe Google.com: Search will only return results of various interpretations / video of the famous carol sung Frank Sinatra, Dean Martin or Andy WilliamsBut will begin and snow screens which then will freeze.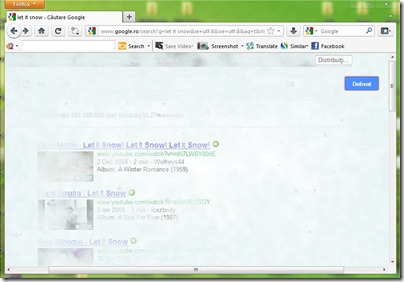 To clean the ice Search page You can either use the mouse or (quicker) to use direct button Defrost, Displayed instead button Search.
Please note: If you want to discover more and other Google tricks, type "Tilt" in bar SearchOr type "Google gravity" and click on I'm feeling lucky (if you have Google Instant predictions enabled, enter Settings - In the upper right corner of the search page - and set OFFThen give Save), Or search "Find Chuck Norris" all with I'm feeling lucky. Enjoy! :)
STEALTH SETTINGS - Winter Comes to Google.com!
Winter has come on Google.com!