As you already know, versions Windows 7 Home Basic si Starter I am very restrictive regarding customizing the operating system. users of these versions Windows do not have the opportunity to experience Aero Style(Aero Glass, Aero Peek, Aero Snap, Aero Shake and other Feature Links like), and moreover, they do not even have the ability to change background Desktopacquis or theme system (option Personalize from context Menu is missing).
Although there are a number of applications which can replace these sites feature less endowed versions of Windows 7If you are skeptical regarding these alternatives, you can now Active Aero Style and other customization options (Including option Personalize) On systems Windows 7 Home Basic si Windows 7 Starter without resorting to any of these software.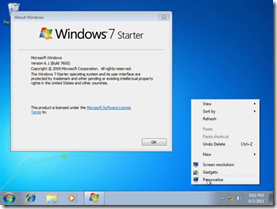 Simple Aero Patch is (as the name implies) a patch so that users can activate Home Basic and Starter Aero Glass and extra features by modifying file system responsible for customizing.
How to use Simple Aero Patch?
To activate Aerto Style and Personalize option, simply double-click on exe file. Patch will automatically restart operating system (shown close all applications before running the patch) and after restart you can enjoy all feature customization sites present in Windows 7 Ultimate.
Note: Do not use this patch in versions of Windows 7 already have Aero Style features enabled, because you may experience system errors.
Credit: Mr. Dushi & hb860 @ askvg.com
STEALTH SETTINGS - Enable Aero Style and Personalize option in Windows 7 Home Basic and Windows 7 Starter
Activate Aero Style and the Customize option in Windows 7 Home Basic yes Windows 7 Starter