Surely in your list friends on Facebook some of which are more often used to talk Messenger. In this case, most likely you will want to add to group favoriteThis situating them in Topping the list of chat in Facebook (Only valid for Facebook mobile applicationsAnd not to web version). So how do we add contacts from Facebook in group Favorites from Facebook Chat?
1. Add Favorites contacts in Facebook app for iOS
open application Facebook, Select tab MessagesThen give tap the icon Friend List top right corner of the screen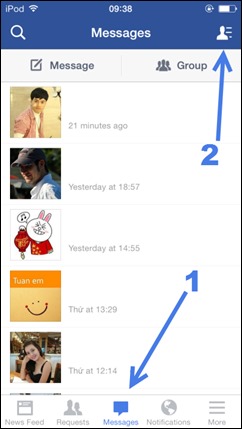 group Favorites is located Topping the list of chat (If you have not published before, most likely it will be populated by contacts who speak regularly) to edit the group (a add or delete contacts in it), please tap the EDIT (Upper right corner under the icon settings)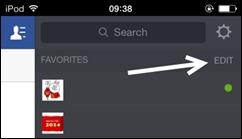 to add contacts in FavoritesAfter entering in the way EDIT, Please tap the buttons + left contacts you wish to add to favorites, For delete contacts from Favorites, Please tap the buttons - left their
also in EDIT mode can modification si order the favorite contacts to be listed with your finger on buttons displayed on their right and pulling them to arrange them according to your preferences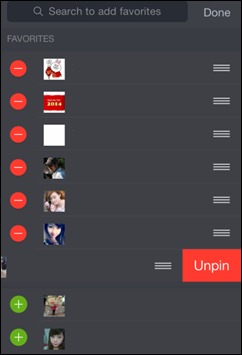 after I added, removed, or fixed contacts in group Favorites, Please tap on Done (All in the upper right corner of the screen)
2.Adauga contact in Favorites in Facebook for Android app
For Android, The addition of contacts in Facebook Chat Favorites is similar to that of iOS:
open Facebook applicationThen click chat dragging your finger right on the screen of the device (or tap the icon giving Friend List in the upper right corner)
in the right Favorites, Click the button EDIT (Most likely the group will already contains contacts that communicate frequently)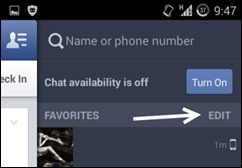 to add contact in Favorites, please tap on green button cu + left contacts
To delete the contact from Favorites, please tap on the red button cu x left contacts
to arrange the order of contacts in Favorites, And drag your finger button to move (3 horizontal lines) the right contacts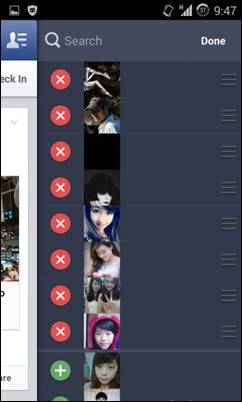 then after you make changes, please tap on Done
As I said above, The Favorites feature version is available for website a FacebookBut most likely your friends are talking frequently on chat are already situated in Topping the list of chat (Or are quite visible in this).
STEALTH SETTINGS - Add to Favorites Facebook contacts to move Them to the top of the chat list
Add to Favorites Facebook contacts to move them to the top of your chat list