Most users do not even remember what it was like when they browsers had not yet implemented the option to surf the internet with the help tabs. And most browsers that exist (and are frequently used) in today appeared only after they emerged tabs (even mobile browsers do not miss this feature). Just imagine what would be different for each page you want to open in the same browser to be only option Open in New Window (There are still users who use this option?). In any case, the tabs still the best invention in terms Web Browsers in the last decade (or more).
All of a decade (or approximately) file manager Windows Explorer remained almost unchanged, microsoft bringing its little change (except for change design when he appeared Windows Vista and adding Ribbon's in Windows 8). Many users felt that a Explorer lacks an important feature, namely tab settings.
If you used to work with several directories / folders the same time, consider how inconvenience becomes navigation between them when desktop (and Taskbar) Is crowded. BrightExplorer is a free utility which add to Windows Explorer option to open new folders in different tabs in the same window (same functionality as the tabs across browsers).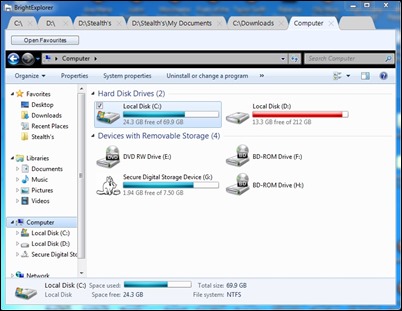 How does BrightExplorer?
The app is not a standalone (not a third-party file explorer), Only add functionality in tabs the native explorer al Windows. After installation, it adds a bar tabs at the top (far) the file's explore not to interfere with toolbars already existing (such as Ribbon) and make navigation in the system much simpler and more efficient. Opening new tabs is very simple (just like in a browser) by clicking tab empty (default location the tabs us is C: \). BrightExplorer also allows Detaching a tab into a new window by selecting it and dragging the bar (premium feature).
An interesting feature is the panel BrightExplorer Favourites (To open must click on Open Favourites on the left, under the bar tabs), in which users can easily add directories work frequently right-click the panel and selecting add or by a simple drag & drop (Premium feature). The panel also includes the option search (Find), Which helps quickly find folders added previously in Favorites.
Note: The app includes some premium add-ons (features) that can be purchased from developers site). Compatible with Windows XP, Windows Vista, Windows 7 and Windows 8 / 8.1
STEALTH SETTINGS - Add tab browsing functionality in Windows Explorer
Add navigation functionality through tabs in Windows Explorer