Most times, when we Registry changes or when using diverese applications / tools sites for customizing the operating systemFor the changes to take effect must we restart the process explorer.exe. Also, when use multiple applications simultaneously, Or when the system has performed more customization changes through multiple applications explorer.exe can implicitly lock and block or slow functioning computer. And in these cases, to solve the process problem explorer.exe needs to be restarted.
The known method of restarting the process explorer.exe is completed and reopened it in Task Manager. However, if the system responds to commands hard, just open the Task Manager may take some time.
Right-Click Explorer Restart is a portable application which adds the option to restart explorer.exe in context Menu. That is the task of the restart Explorerul will be much easier to distance just right click.
How Right-Click works Explorer Restart?
Simply run the application and click on install to add Restart option Explorer in the Context Menu. Then, whenever you have to restart explorer.exe will only have to give right-click on Desktop and select Restart Explorer.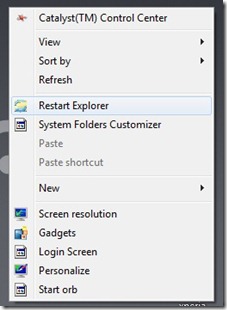 If you want at some point to remove this option from right-click menu, run the application again and click on Uninstall.
Note: The application is compatible with Windows XP, Windows Sight yes Windows 7.
Credit: Lee Whittington @TheWindowsClub
STEALTH SETTINGS - Add Restart Explorer option in Context Menu
Add the Restart option Explorer in the Context Menu