When you want to Uninstall an application installed in a WindowsHave to go in Control Panel> Add / Remove Programs (for Windows XP) or Control Panel> Programs and Features (Windows Vista, Windows 7 si Windows 8), To identify the application, and to give right click> Uninstall (Or simply double-click) on it.
But users who tend to test many applications that install and then Uninstall often supplied operating systems, and would like, most likely, a method more rapid uninstall applicationsSo you no longer have to access control Panel every time you want to uninstall a program you no longer need.
MenuUninstaller is a free application which enables users Windows uninstall any application with a simple right click. It adds Uninstall option in right-click menu (context Menu) So uninstall an application will be in a single click away.
To access Uninstall option the Context Menu, users need to click right either application shortcut I wish to uninstall the Start MenuOr the shortcut it from the desktop.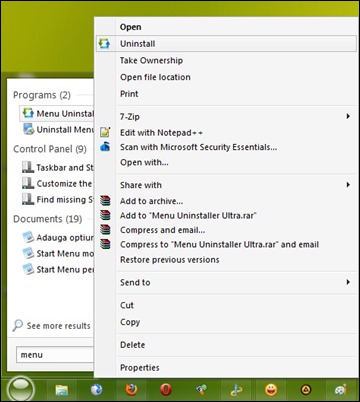 If the option Uninstall is not displayed when right-click on a shortcut of an application in the Start Menu, Press the key Shift then again give right click on that shortcut (as will be shown Uninstall option).
Note: In order to install the application, users must enter certain information such as their name, e-mail address, and country of origin. MenuUninstaller is compatible with Windows XP, Windows Vista, Windows 7 and Windows 8.
STEALTH SETTINGS - Add Uninstall Option to Context Menu in Windows
Add Uninstall option in Context Menu in Windows