Starting with Windows VistaHas become quite difficult for users to modify or replace the system files of WindowscommunityAnd that because Microsoft products increased security their placing them under control (ownership) of system user default, named TrustedInstaller.
For system files can be modified, users Windows Vista, Windows 7 si Windows 8 need to take control of their (take ownership), This can be done either manually by GUI or Command PromptAs well as through a options from Context Menu, Added by a Registry hack or scripts. reg.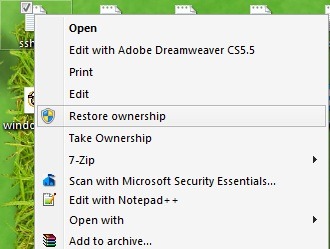 But sometimes, for various reasons, users may wish to restore control over files under TrustedInstallerand manual method, described in this articleIs somewhat complicated and requires some time to be done. Another method is much faster, is adding another option in Context Menu, with which the ownership of files under Trusted can be restoredInstallst.
How to add Restore ownership to TrustedInstaller in the right-click menu (Context Menu) of Windowssite?
Adding option Restore ownership in ConMenu text by manually modifying the system registry is quite complicated and cause any unpleasant consequences (such as system errors) Especially for users who are not familiar with them, so we recommend using a script "Ready", similar to that for adding Take Ownership option. Simply click on it, then confirm adding the information contained in the system registry script and option Restore Ownership will appear in the right-click menu of Windowscommunity. And whenever you need to restored TrustedInstaller ca owner of any system file, right click on it and click on that.
Note: The archive contains a second script that removes the Restore Ownership option from the Context Menu. Anu will use these scripts for Windows XP or other versions of Windows earlier.
STEALTH SETTINGS - Add Restore Ownership to TrustedInstaller in windows context Menu