One of the most publicized Feature Links of Windows 8 it is The Start Screen, With its tile sites for modern applications, Feature that although criticized by many, still has enough fans among users of operating system. If you are a fan of the new 8 modern Windows interfaceBut still use Windows 7, We have good news: using a third-party applicationYou can add tile sites similar to those in Windows 8 and your operating system.
lung is a free application si portable (No installation required), which enables users to use Windows 7 tile sites similar to the 8 Windows Start Screen the most widely used server applications installed (These are pre-defined application, but hopefully in a future release to allow and adding custom tile sites), Such as Calendar, Internet Explorer, media Player, control Panel, Notepad, Microsoft Office and so on They can also be displayed and tile sites that contain information system, Such as space available on your hard or version installed pe computer.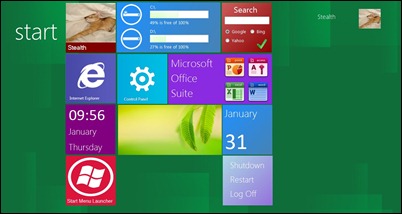 How to use lungs?
After you run the application, you will notice its two sections, one where you can add tile sites Desktop and another where you can remove tile sites already added. To add applications desired tile sites, click on their icons in add Widgets (They will disappear from this section) and to delete the Desktop tile sites, click on the icons that appear in applications remove Widgets.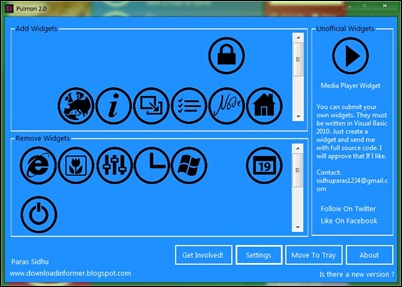 In addition, lungs offers the possibility to application run in fullscreen (To mimic The Start Screen Windows 8, or minimize it to the systray when necessary.
Note: Application compatible with Windows 7 32-bit and 64-bit.
Credit: parassidhu @ deviantart
STEALTH SETTINGS - Add Windows 8 like tiles to Windows 7
Add tile sites like Windows Start Screen in Windows 8 7