Whether you want to keep out activities children (browser, games etc..) on personal computer or the school, or you want to protect certain files and want to know if there were attempts access them by other users, be they just want to keep track of your activities and events the computer provided, LastActivityView it is application you need.
LastActivityView is a free utility, portable (does not require installation, Making it more easy to use) And does not take up very little space (for a quick and free access is recommended run it from a USB stick). With the application, Windows I know that were past activities on your computer (Or computer at work), which are displayed in chronological order.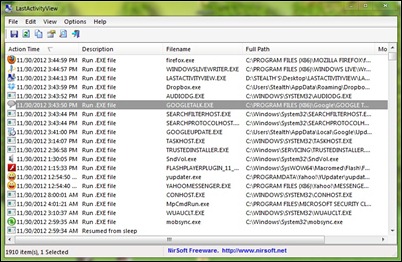 Each row in the list of activities displays the time at which it occurred, information about the type of event / activity, name processes / applications who were involved in that event and their location.
LastActivityView can record a variety of activities of a WindowsIn which are included start or off thereof (startup & shutdown) Windows Installer events (Application installation / updates), They are run some programsAccessed certain files (documents, pictures, audio files or video) Or when making Connecting to the Internet. Information about these activities are undertaken by the program of Windows Registry, Windows Events logs and folder Minidump (This is only part of resources). Also, users can save this information in the form of txt files, csv or xml, Or as html reports.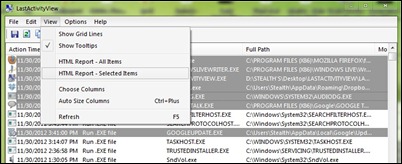 LastActivityView can be of great help to users when they need to diagnose causes of certain problems of the operating systemOr you want to know if certain Folders / files / applications were and when they were accessed.
Note: The application is compatible with all versions of Windows XP, Windows Vista, Windows 7 and Windows 8.
Credit @ Nirsoft
STEALTH SETTINGS - Display all activities and events from the Windows OS with LastActivityView
Displaying activities and events on a Windows system with LastActivityView