If you ever wanted to know what "hidden" inside a files. exe for various reasons (or you download file from internet and it seems somewhat suspect, or you need resources within it, or you want to modify in any way), the latest version 7-zip allows you to extract files from it as from a regular archive or you can open the file directly to inspect the "inside".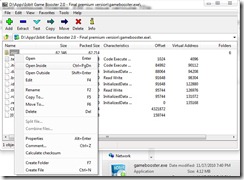 7-Zip is a software open-source (freeware) And one of the most Popular Compression, Widely used by Windows.
* High compression ratio in 7z format with LZMA compression and LZMA2
* Supported formats:
- Packing / Unpacking: 7z, XZ, BZIP2, GZIP, TAR, ZIP and WIM
- Unpacking only: ARJ, CAB, CHM, CPIO, CramFS, DEB, DMG, FAT, HFS, ISO, LZH, LZMA, MBR, MSI, NSIS, NTFS, RAR, RPM, SquashFS, UDF, VHD, WIM, XAR and Z.
* For ZIP and GZIP formats, 7-Zip provides a compression ratio That is 2-10% better than ratio provided by PKZip and the WinZip
* Strong AES-encryption 256 in 7z and ZIP formats
* Self-extracting capability for 7z format
* Integration with Windows Shell
* Powerful File Manager
* Powerful command line version
* Plugin for FAR Manager
* Localizations for 79 languages
The latest version of this archive (9.20) Is integrated into the installer command line with which Windows users can extract the components of a .exe or a . MSI, namely fillet. Exe / extract <path to extract> (where fillet is the file name. exe and path to extract is the folder in which you want to extract the file components). Using 7-zip to open the files. Exe, you can browse through them as through folders usual.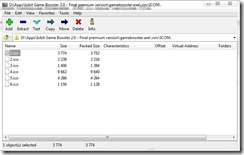 To open a file. Exe with 7-Zip right click on it and select 7zp menu and then select Open archives. To open folders contained. Exe file, right click on it and select Open Inside. Or simply click on 7zp> Extract files.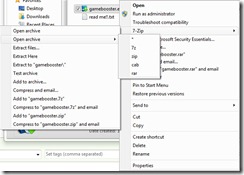 7-Zip v9.20 {FileLink = 7}
Note: parts extracted from a file. Exe can not be compressed format back. Exe with 7zp, but you can find online converters from archives. Zp in. Exe
Learn what are composed of .EXE files with the new version 7Zip