dTunes is a player "all-in-one" for the iPhone, which, in addition to iPod, allows you to access download sites for music or videos. With dTunes can download music, video or torrents directly on your iPhone.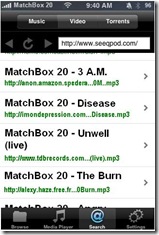 dTunes is very simple to use: search mp3 or the artist you want to listen to and click download. Downloaded files are saved in the / Var / mobile / Library / Downloads folder, And you can see the mobile screen.
After you download video files mp3 or iPhone, you can listen to or view them using the media player included in dTunes. In addition, dTunes allows you to listen to music in the background, while you can send messages, read emails or take pictures.
The site's default download mp3 is seeqpod.comAnd for videos, tinytube.net. Torrents can be downloaded using a service (requires registration) called iTorrentRelay.
dTunes is an application useful for users who want to listen to music you do not have loaded on your iPhone endowment. It happens often to listen to music online or opt for radio just because music stored by us is "worn out" from too many replay sites. But for those who want to use dtunes, bear in mind that it may be downloaded only on unlocked iPhone (jailbroken iPhone), because Apple did not approve the application as a feature copies the iPhone.
All-in-one music player for iPhone - dTunes!