Outlook Mail and CalendarIt is the application that successfully replaces Outlook and Calendar to Microsoft Office suite. Perfect even embedded operating system Windows 10, application Mail and Calendar both face home user requirements and business. Intuitive interface, quick launch and low consumption of resources, the ability to add multiple e-mail accounts Office 365, Exchange, Outlook.com, Gmail, Yahoo! and other personal addresses plus intuitive messaging and open chat management functions. In other words, a compact and stable application for email and calendar.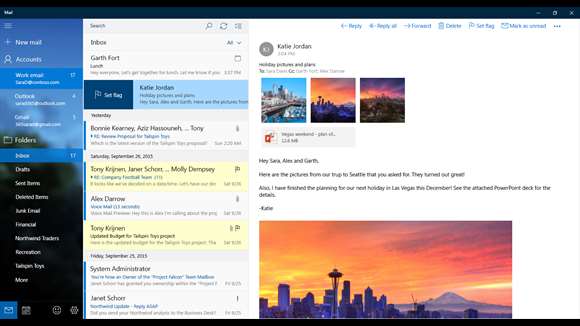 Microsoft recently released a Update very important for Mail and Calendar application. In this new update permitted open new messages in a new window - Very useful function that allows us to quickly browse other messages in your Inbox while you compose a new message - and adding automatic statutory holidays in Calendar.
Besides these news available in Windows 10, Microsoft has added new features in Windows 10 Insider. The program dedicated to those who want to test Beta versions of Windows 10 and embedded applications. It is tested in Beta version, opening / viewing atasatamentelor .eml and saving messages in the same format.
The application "Mail and Calendar"It is free and can be installed on all operating systems Windows 10 si Windows 10 Mbl.
Outlook Mail and Calendar for Windows 10 received new positions