The fact that iOS 8 was announced on the first day of WWDC (Worldwide Developers Conference) Supported by Apple la San Francisco was not a surprise to anyone, considering that Apple has made it a habit to announce each year at this event, next operating system iOS. But this ad has been anxiously awaited by millions of iOS users (And others) more confirmation certain Feature Links which was rumored to be included in the new system.

Regarding iOS system interface 8It will not be very different from that of iOS 7The new system is actually a improved version the current system. But of new features of which will be available in iOS 8 will include some fairly interesting.
Feature s new iOS 8
Interactive Notifications & Widgets - users will be able to interact with applications that display notifications (banners or lock screen) directly from those notifications (for example, they will be able to reply to a message directly from the notification for it, etc.), which on previous iOS systems was only possible for devices with jailbreak; also, in iOS 8 users will be able to add widgets in the system (for now only in Notification Center, but even so it is better than not at all);
Recent Contacts & Multitasking - Recent contect list will be displayed in the top 8 iOS App Switcher's (another feature borrowed from jailbreak tweak sites);
Mail & Multitasking Gestures - Users can mark emails as read by swiping your finger right over them (swipe right), and will be able to access more options (among many, and the removal) by swiping your finger left (swipe left); In addition, iOS 8 possible to stop in the middle of writing an e-mail to access other e-mails, and then resume composing that email where you left it;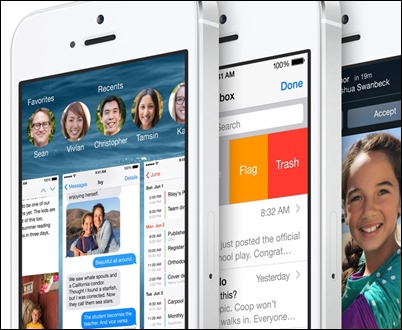 Spotlight - In iOS 8, in Spotlight search results will display including the App Store, iTunes Store, News, Maps etc.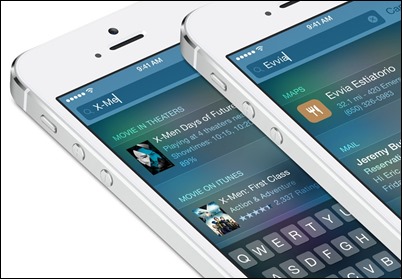 Continuity - A very welcome feature, already on the Mac, which allows users to start working on different files / documents on a device (such as on a Mac) and continue from where they stopped on another device (iPad or iPhone); users will quickly CCES Continuity through a display on the Lock Screen icon (bottom left of it);
Word Prediction (Quicktype) - Feature borrowed from Android, Quicktype will predict the next word in a sentence during typing its expression depending on the style of the users; predicting words will be different in a professional conversation from a personal conversation;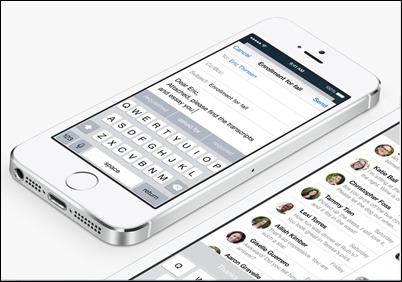 Calls Across iOS - Users who have multiple iOS devices will be able to reply from a device to an incoming call on another device, provided that the devices be in the same network (eg the iPad to answer an incoming call on iPhone) ; This feature will be included in future operating system Mac OS X, Yosemite;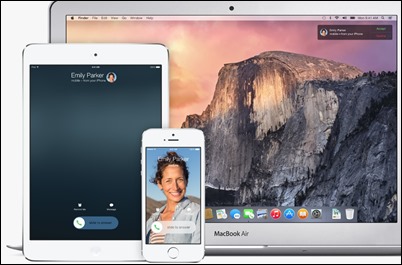 Group Message - Feature already available on various IM applications (WhatsApp, Viber and even Facebook mobile) will be inclusively and iOS Messages app: users can not only add or remove contacts from a group, but will give the conversation Mute or leave (Leave) group (even if it was created by them);
Audio Messages & Media Message - Just like WhatsApp, users can send and receive audio messages; moreover, when the device is locked, you receive a message notification sound on lock screen, you just need to lift the ear to hear the message and to meet, talk to the device to your ear, then remove the device to the message to be sent. Also, all media files share a conversation here will be able to be viewed in one place, which will make their selection easier;
Health app - Zvnurile Healthbook said he would call, but the name of the application will be simpler, Health; application will combine data available / out of the jungle and fitness devices;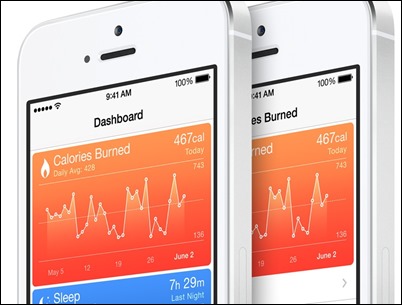 HomeKit - Integrated home 8 iOS devices allows interaction with various systems in the home (eg Siri inform you that it's bedtime and this will signal the HomeKit various integrated systems in house to perform certain actions such as turning off lights , concluding or closing the garage door, etc.);
Family Sharing - Feature through which members of a family (maximum 6 people) ui can share media files and access them directly from the devices that are already stored (without having to copy them first personal devices); Also, if a family member buy an app from the App Store, another member will be able to download the application that its device without having to buy it in turn, and when a child will want to buy an app, it will perform transaction only after asking permission of parents using this feature;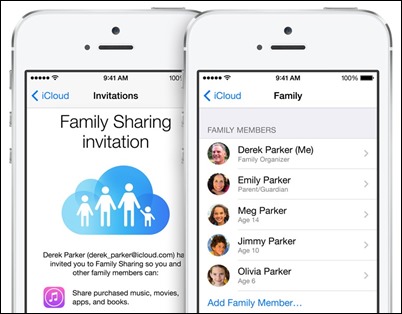 Old woman new sites feature available in iOS 8 are new controls for Photo editingAble to various buy on iTunes via Siri, Shazam integration In Syria (Function audio recognition), The opportunity to ask break (On hold) a Call on FaceTime, Display Battery consumption for everyone application in part, search engine DuckDuckGo Safari, Shooting mode panorama also available on iPad etc.
STEALTH SETTINGS - Apple announced iOS 8 at WWDC 2014
Apple announced the launch of iOS 8 at WWDC 2014