If you have noticed something responsivity issues la keyboard device iOS after you do the update to iOS 7.1Then you will surely want to install and iOS update 7.1.1, Released by Apple. This update, called maintenance updateBrings system improvementsA few fixes si Security updates devices running iOS 7.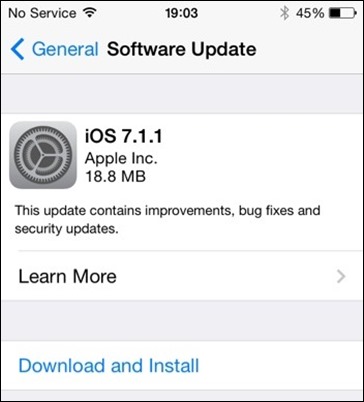 Specifically, the update brings improvements Touch ID, Making your site more reli than iOS 7.1And resolve, as mentioned above, keyboard responsiveness issues and problems Bluetooth keyboards when activated VoiceOver site.
This update contains Improvements, bug fixes and security updates, including:

- Further Improvements to Touch ID fingerprint recognition
- Fixes a bug That Could Impact keyboard responsiveness
- Fixes issue year When using Bluetooth keyboards with VoiceOver enabled
Also includes iOS 7.1.1 support in Safari browser for web domains like new . Photo si . Room.
The update is compatible with all iOS 7.1.1 iOS devices support 7.1, namely iPhone 4, 4S, 5, 5C si 5S, iPad 2, iPad mini si iPad Airand iPod touch 5.
7.1.1 iOS can be downloaded and installed via Software Update in application Settings on apparatuses compatible iOS.
STEALTH SETTINGS - Apple released iOS 7.1.1 update
Apple has released the iOS 7.1.1 update