Google recently launched a service that allows looking and listening online a vast collections / Indian music discographies.
Users can search for older tracks the `70 or new hits were composed soundtracks for movies.
Latest Hindi Songs - Search for artists, albums or songs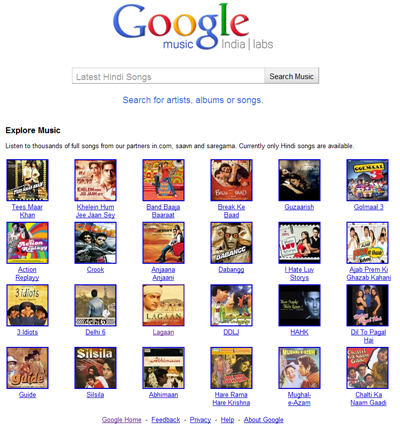 This service is free and streamingSite is directly from partners like in.com, saavn si saregama.
For those who are willing to seek and to Indian music listen online, www.google.co.in / music is a very good solution.
Search Tip music www.google.co.in / music:
- Typing "old songs"In the search box, you get a list of all albums / catecelor from the` oldest 70, to those launched during the `90. Using the" Any Time ", you can sort albums and songs according the years they were released. You can choose to view only tracks released in the `90,` or `80 70.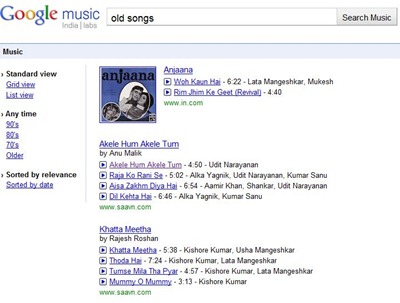 - If you type "new songs"In the search box, get the list of Indian music 2000 launched after year and can optionally choose to display only tracks released this year.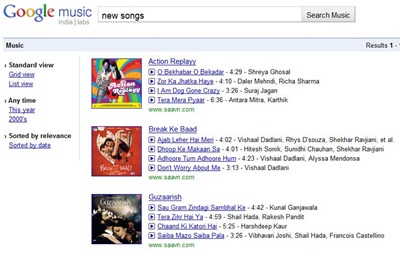 - "love song"- Displays albums and songs containing love Indian music and"love song compilation"Displays compilations.
At visit this site / service I learned that Indians singing Music Christmas (In English - for happiness listeners) :)
We found "Christmas in New York"In an exceptional performance. :)) It is good to know that a site Indian music can Christmas songs listen online.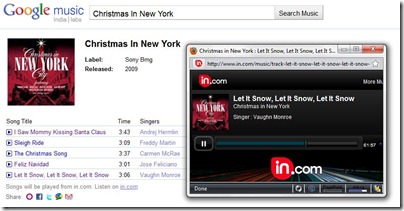 Let It Snow, Let It Snow, Let It Snow ...
Listen to Music Online Indiana (Latest Hindi Songs) - Music by Google