Like any intern who sometimes does Online ShoppingBefore placing an order, follow all more online shops who own the product. Of course the first time we look at product price and discount. compare price same product (product with the same specs!) On all online stores.
Net in which many buyers fall, especially around BLACK FRIDAYIt is "SALES". What can be more tempting for a buyer than a reduction of several hundred lei or a percentage -25% of the normal price of the product? Well as ...THE CORRECT PRICE of the reduced product. In the fever of the day Black FridaySome online stores are keeping everything in a holiday discountsWhere are displayed prices and discounts "bomb". The bomb literally. If EvomagBomb cuts is so great that they are Black Friday a monthand prices obtained from cuts and X discounts are Higher than normal prices, Displayed by other online stores, something more serious.
Let us show you a small "case study" on a SAME PRODUCT in the offers Evomag, eMAG si Altex.
Let's say we want to buy a iPhone 5SReleased by Apple by September 2013And whose price is somewhat stable. There is a product launched recently that we expect large variations in price.
We iPhone 5S and follow specifacatiile be identical: 16GB storage capacity, on the color Space Gray. Storage capacity and sometimes colorAre sigurele elements that bring variations in the price of iPhone. We exclude all mobile phone providers where price is given and a subscription.
OTHERX, eMAG and evoMAG for iPhone 5S APPLE 16GB, 4, 8MP, Wi-Fi, Space Gray on November 15 2016
Altex
The price is 1399,90 LEIReduced by LEI from 300 1699,90 LEI.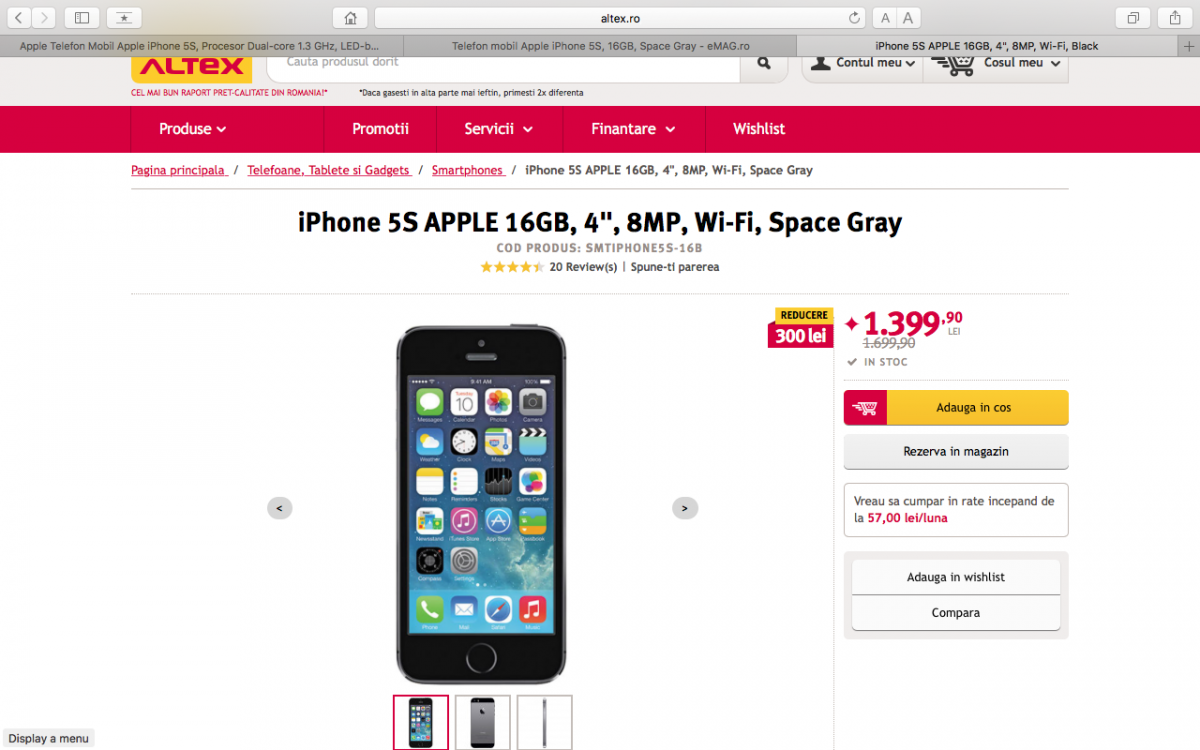 1399,90 LEIIt is reasonably priced, but reducing 300 LEI can not be counted. Displays a discount from 1699,90 LEIBut this price is no longer valid for a long time. A reduction of 300 lei would have been reasonable if it was made from current sale price.
So the iPhone 5s Altex can buy at the right price, but there is a reduced price, as displays offer on site.
eMAG
The price is 1399,90 LEI and point. Without another discount or promotion.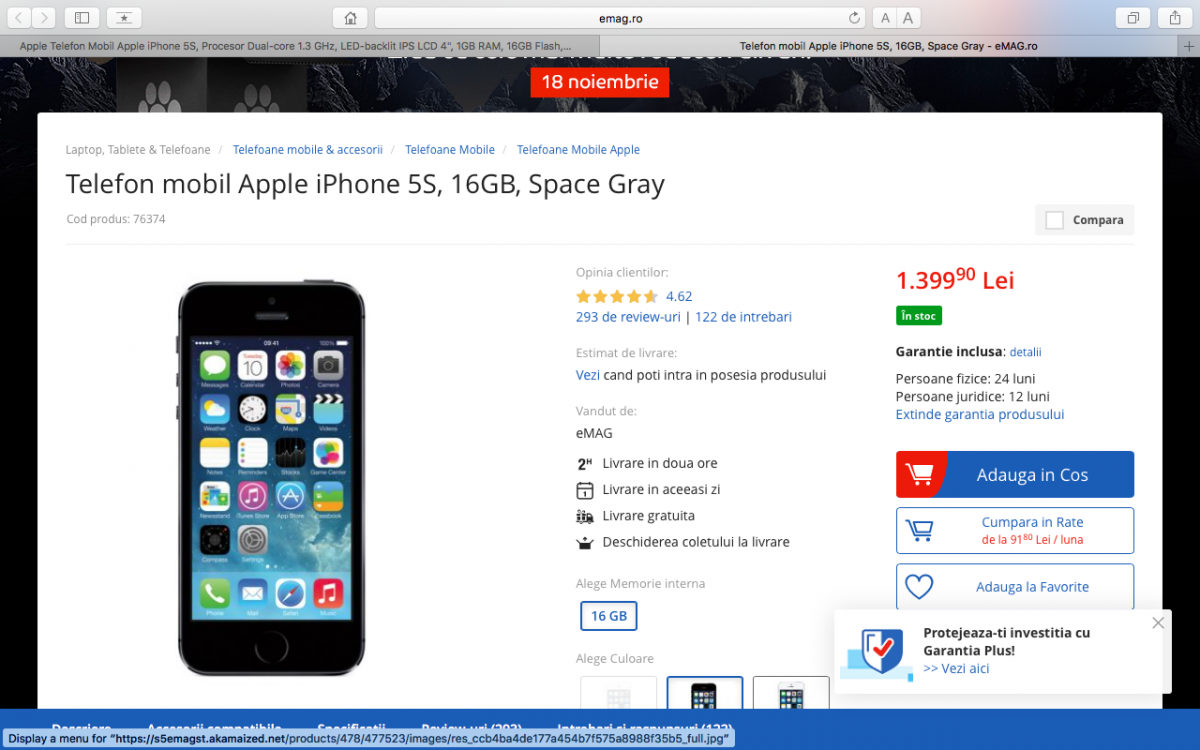 Evomag
The price is 1429,00 LEIreduced with 25% from 1899,00 Le LEI.
The conclusion is that "the largest reduction"Has Evomag. On Evomag "save" 470 lei the price displayed inial offer Black Friday, but I pay with 30 lei more than the eMAG where there is no discount on this product, and Altex than on where they show a reduction of 300 lei.
So the Evomag have the opportunity to buy a product with low 25%, whose low price is higher than the standard price displayed on other online stores. I repeat that the product is identical compared with the three online stores offer warranty 24-month warranty for individuals and free.
In addition to this "discount", evoMAG also serves one as cute potential customers. Products that are displayed on a really low price, are…"sold out". No one can tell us that those products have been sold at a reduced price Evomag ever. ANAF or ANPC can only make us light.
I noticed this Price difference, Aiming to purchase a iPad Mini 4. PDisplaying Evomag low of youth is higher than other online stores, and those with "exhausted stock" are lower than those in stock. For a higher price, normal.
Watch the screenshot carefully below:
Even if there is a color difference, the difference between the product in our stock (iPad Mini 4, 4G, 16GB, Silver) And of those no longer in stockIt is immense. This "offer" to be complete, the product numbered with me "4"It is the same pattern with the first three, but with a storage capacity of 64GB. Storage capacityMakes the difference in price, but is a little problem. The price is at No. 4 64 GB (sold out), It is lower than the discounted version of 16GB, Car is the "stock supplier".
Later Edit:
Here I found the Silver version, iPad Mini 4 / 4G / 64 GB. The price for 64GB version is smaller than the one who is "in stock supplier" of 16GB.
£ 2324,29 - IPad Mini 4 / Silver, 4G, 64GB – sold out
£ 2499,00 - Reduced by 17% from 2999,00 Lei, iPad Mini 4 / Silver, 4G, 16GB – Stock supplier.
Article responds to the tags: misleading pricing, misrepresentation, discounts False, Black Friday, prices Bomba, Evomag, Offers Evomag, discounts Evomag.
This is not a written article designed to defame the image Evomag. It is a simple article, "stiudiu case" made by a buyer of Evomag, manager StealthSettings.com, to educate website users who want to make acquisitions from various online stores.
The screenshots on evoMAG, eMAG and Altex, published in this article, were made on 15 November 2016, and the changes made to these images have not changed and / or obstructed the prices and offers of online stores. Of course, the original screenshots are also kept.
Any appeal from Evomag or another online store that felt offended by this article shall be sent by e-mail: contact [at] stealthsettings.com.
Beware of misleading and promotions of Evomag BLACK FRIDAY