some processes running on OS Windows (Whether it is system processes or processes applications installed in the system) are very difficult to stop / finish. Some of them may be stopped or not at all, or is restarts immediately after. If such processes are necessary for the proper functioning WindowscommunityThen restart their termination or failure is always welcome, but when processes are unnecessary and consumes and the system resources, Willfulness becomes annoying. So to solve this?
How can we block the running of any process in Windows?
Task Blocker is a free application (Open source) for Windows which prevents processes running in system selected by the user. For the application to work properly, you rolled with administrator privileges. Then click on the + the toolbar to add processes who wish to block running in the system (manually enter Process nameYou can select them from your hard drive or the processes running in the system).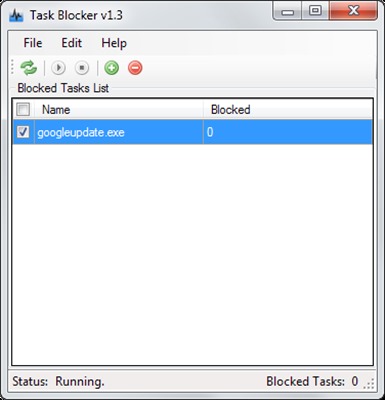 After adding processes in block listThey will be automatically closed if the system running at the time. It is likely that by blocking certain processes was also running a short period of time, to reduce that time, check Real time check from Preferences (Beware, this option comsume much CPU).
The use Task Blocker donate to block unnecessary processes, Consuming system resources for nothing. Do not use Task Blocker to block running system processes!
Note: Compatible with Windows XP, Windows Vista, Windows 7 and Windows 8.
STEALTH SETTINGS - Block any process from running in Windows with Task Blocker
Block the running of any process in Windows with Task Blocker