In case of ads displayed sites you visit (like popups or video ads) Will irritate by their abundance, try free application Adblock PlusThat guarantees that users will be able browse online without being disturbed by intrusive ads.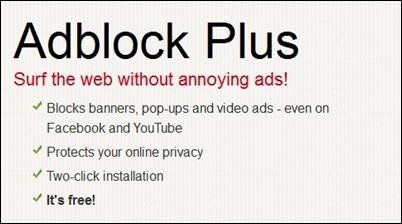 Available as extension for Firefox browsers, Opera si Chrome, Adblock Plus recently launched a preview version and for Internet Explorer. After installing the application, the Internet Explorer will display a notification about the next run of the browser, users must manually activate extension for it to take effect.

If you missed the notification of Install Adblock PlusYou can enable subsequent extension Internet browser settings Explorer (Click on Settings icon displayed in the upper right corner of your browser and select Manage add-ons menu, then select Toolbars and Extensions from under Add-ons types, Identified Adblock extension and click on the button Enable).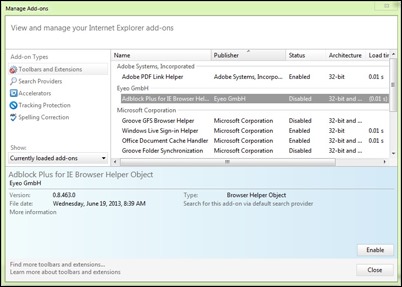 To access and configure Adblock Plus Options will first need to activate the status bar of the Internet browser Explorer, where the extension icon is displayed (the user is notified about placement application icon in status bar after activation) then right click on that icon. In Adblock Plus options You can select language you want to use the extension and are sites for which you want blocking ads.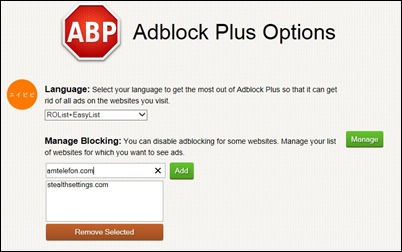 Another feature al Adblock Plus for the Internet Explorer (Applies to versions available for other browsers) is the Tracking Protection, Feature that protects online user privacy.
Download Adblock Plus for the Internet Explorer*
Note: The application has some servers and services included in the whitelist, which means that certain advertisements displayed on the sites are still listed, even if you have Adblock Plus enabled.
* Internet compatible Explorer 8 and later versions.
STEALTH SETTINGS - Block online ads from displaying with Adblock Plus for Internet Explorer
Block the display of online ads with Adblock Plus for the Internet Explorer