First to make presentations ...
First I want to tell you Hello!

Nice to read my blog, you will be welcome event here anytime.
This blog was created as part of the site www.prodesignmedia.com. In this blog you will find

news from IT world(And others)
images
The most interesting stuff Interesting ... and many other things.

This blog will help you look at blogging from a different perspective.
Through this blog I want to offer our readers both a source of useful information and a source of relaxation.

My name is Adrian Bornea. I am a young man drawn to the world of technology and that is why I created this blog Prodesign and Media.
Na, I copied myself on you. Afford.
In reality, it is a gimmick (if not kids, I apologize, but not any more a chicken head 2 months) named Adrian BorneaThat steal content from blogs, To pull himself money from Google AdSense and grow two or three positions trafic.ro. :-)
Bornea Adrian: http://whois.domaintools.com/prodesignmedia.com
I am "stealth", and I hang out here ... besides lug Uncle Adrian. This time last week, gave a panarama post comments prison Break and that was in addition to informative post (download link) and phrases that my mind could not be copied. Something like "So far I have not been a fan of the series Prison Break, but still not past tense. No time for TV, but seeing as torrent sites are found almost all series... "I never thought it would create a text coincidence. Recipes that could. We are in Romania the `08 and everything is possible. Especially stealing material from blogs has become fashion season. See as stealing CEL.RO from blitztech.ro.
Adrian's post terminals: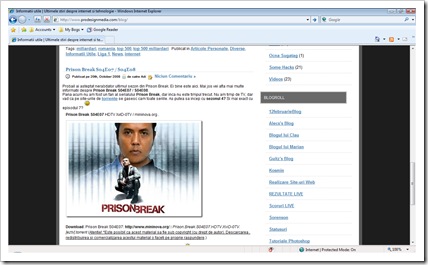 Stealth post Settings:
The only difference between the two positions are two or three sentences from the beginning of the blog blogging look from a different perspective :
"Fax may have waited anxiously last season of Prison Break. Well it's here. Below you will find more information about Prison Break S04E07 / S04E08. "
... And continue with a copy / paste from me, along with sources. Big mistake. Content theft may be charged by various methods. The simplest is through Google WebmastersWhere you can report the theft / duplicate the content. Consequently, the site gets reported in blocking search engine. There have been enough cases like dragons, who had to change their names. Another method is notification Web Hosting Provider and of course the Google AdSenseWhose policy is violated. In both cases, you can choose to account suspension. Besides this, there is a way ... but out of respect for him, I will say now. Maybe he will tell. :)).
www.prodesignmedia.com/blog/
PS It is not so bad. Aa wrote at the end station "via: stealthsettings.com" (no link, of course. Anyway have 3 to post links without realizing it). ;)
Bornea Adrian, Welcome!