Whether you are at work, whether you're home or the neighborhood, feel adulmecandu your back. Sometimes you get caught up by Online and do not feel approaching quietly. Then, disaster. No time to give Clear History, private Data, Etc. And sometimes, if you're lucky and you get to the few clickCEs before you were taken from petty cash, hand trembling expression of guilt and give you away. : P
Firefox has thought about you for those moments, and thought to help you come through a add-onCalled suggestively Stealther.

What can be Stealther helpful? Once activated (Ctrl + Shift + S - Use the same combination of keys and off), it stops data storage during surfing websites, information such as Cookies, History, disk Cache, recently Closed Tabs, Downloaded files History, Etc. Meaning you will be just a click away saving when you wake up with "detectives" on the head.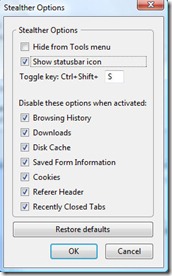 Do not use Firefox? Nothing, will use. You've probably heard that earned reputation Best Browser. Maybe it's time to try it, even just to browse websites quiet "forbidden". : P
Browse Through the Internet Without Leaving Traces