After some years haunted by some radio a song domestic, Of which I remember two verses: "die you would goat"And" your goat died "(if you want to give a search her, Cantatore is Daniel Iancu). When I learned Google's goats, My mind ran (even galloped) fixed to this song. If you think I fancy jesting, That's right But one thing is certain: Google keeps the goats. Really.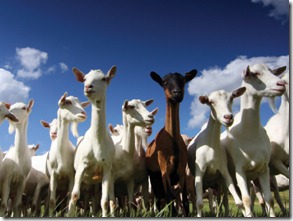 At our Mountain View headquarters, we have Some fields That We Need to mow occasionally to clear weeds and brush to reduce fire hazard. This spring we decided to take a low-carbon approach: INSTEAD of using noisy mowers run on gasoline and That poll the air, we've goats from California Grazing Some Rented to do the job for us (we're not "kidding") . A Herder brings about goats and 200 They spend roughly a week with us at Google, eating the grass and fertilizing at the same time. The goats have herded with the help of Jen, a border collie. It Costs us about the same as Mowing, and goats is a lot cuter to watch Than lawn mowers.
So Google goes green or Google goes goatingStill there ... (GGG!). I wonder if other major companies will follow suit. It probably means that horse carriage (Or rather cart) Will return to fashion, that if we do not wake up and taxes the rumbling and whinny.
And yet, returning us now ... GGG! (Or good gameGoogle ...): P
LA.  LOL !! Because of comments acid on Google's goats (comments about how Google is or no care of his goats), Google has responded quite promptly:
Google Takes the wellness of our Employees and we pride ourselves very Seriously on Having a responsive and Adaptable culture. Mowing the lawn-goats have not, of course, full-time Google Employees - but we certainly Would Directly respond to any concerns about Their treatment. I CAN confirm That during Their time in Mountain View, like other Google Employees, each goat is entitled to a free organic lunch.
I wonder what they would do if they were goats must pay tables organic. But I wonder how long their lunch. Most likely a week. :))
Google's goats