InMac OS X Notification CenterWe have more choice widgetplants, including "Weather", for weather condition. Weather conditions in your current location and other locations that we can add liking.
Units of temperature si wind speed, are set according to the location chosen by the user when installing and configuring OS X. Therefore, the temperature values ​​can be listed inFahrenheit or CelsiusAnd wind, in mile or km.
To change the units of measurement in Notification Center, we need to keep in mind as we meet here two separate notifications. One is the widgetacquis "Weather" which gives us information about the current location and temperature of the added us and another notification is to Notification Center, and presents a Reum the location and weather conditions for the current day.
How can we change the units of measurement for temperature (FahrenheitorCelsius)and speed Weather widget in Notification Center
That is the easiest. Notification sidebar open, take your cursor over the bar that reads "Weather", then click on the 'i' of the round. At the bottom, we have the options of adding locations and changing temperatures inFahrenheitorCelsius.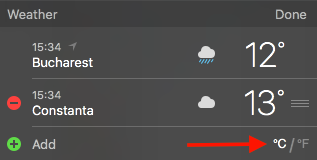 Click "Done" from the top after doing changes.
Another notification in Notification Center, is showing summary of weather conditions. Maximums, minimums, wind or rain conditions.
Even if we set the "Weather" widget to show degrees in degrees Celsius, it's quite possible that the weather report shows temperatures in degrees Fahrenheit. This is given by the region settings that we chose when installing OS X.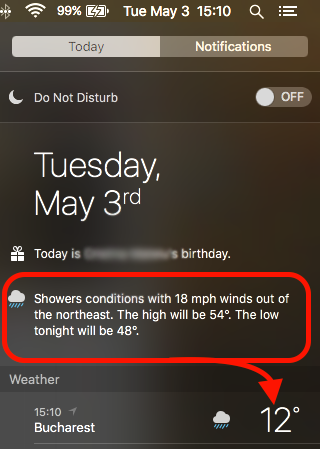 How to change the units of measurement for temperature (FahrenheitorCelsius) in Notification Center
1. open System PreferencesThen open "Language and Region"
2. Click on the button "Advanced... "From"Language and Region"
3. The "Measurement units", choose the "Metric" to change temperaturesFahrenheit in Celsius.
Click "OK" to save and apply the new settings.
After this setting, in Notification Center or to show the values ​​in system Metric. Kmh, Speed ​​and Celsius degreesFor temperature.
Change Weather Units (Celsius & Fahrenheit) in Mac OS X Notification Center