Almost every internet user has account de FacebookAnd quite a few of them are those who like contact only people you know or to which they have nothing to hide. Where settings de Facebook You are too difficult and quite complicated to change each time you want to hide some Post of you on Facebook against a number of contacts in friends listSolution is AVG PrivacyFix CrowdControl.
AVG CrowdControl is a application for Facebook, Designed to make use of this social networks much safer. With the application, users of Facebook can control who contacts from the friends list can view / access updates (Videos, pictures, statuses, etc..) On timeline staff.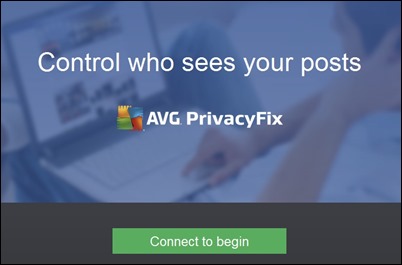 How to use AVG CrowdControl for Facebook?
AVG application by accessing the page CrowdControl, Click the button Connect to Begin si accept permissions that it required (required for users can easily control who has accession to this information through the application)
Once the application loads all the informations required in your Facebook account, you will be shown a page that lists all contacts from your friends list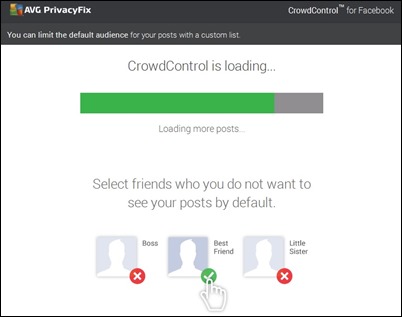 Initially, all the contacts are selected; deselect all contacts with the do not want to share updates look posted on Facebook, then click on the Save List
then click on icon Privacy Shortcuts (Located in the upper-right corner in front of the icon of settings), Select Who CAN see my stuffThen change the options Who CAN see my future posts from Public/Friends/ Etc in MyCrowd (AVG PrivacyFix)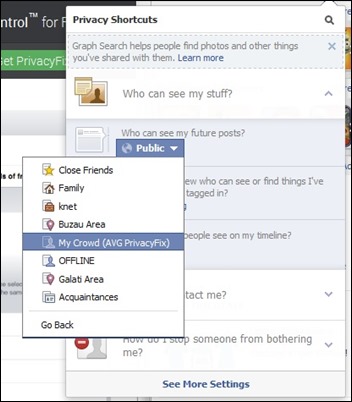 Install AVG CrowdControl to Facebook.
Note: If the option is not visible in My Crowd list, click on See all lists.
STEALTH SETTINGS - Manage who CAN see your Facebook updates with AVG CrowdControl
Control who can read your updates on Facebook with AVG CrowdControl