Apart from updates periodic WindowsControlled and installed through Windows Updatesome applications installed in the system and have the habit of automatically install updates to improve the user experience and solve various security bugs. While this relieves users to search and manually install updates necessary sometimes happens that some updates to encounter Compatibility Issues or the system, or used with other applications. It is also possible that some users will want to use older versions of some applicationsFor various reasons. In such situations will most likely want to be able control or block automatic updates of those applications.
Update Freezer is a free utility with which users can control and restrict the installation of automatic updates of installed applications Windows. The application displays a list of programs installed which tend to automatically install updates, and status their time to use the application.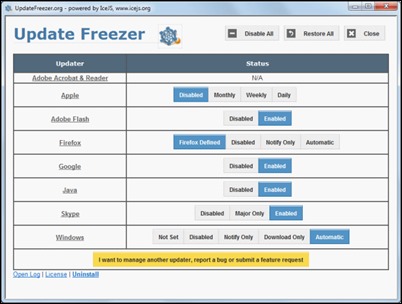 Update Freezer enables users either disable automatic update application or, in the case of applications such as Skype, Install only Major updatesOr, as is the case for applications Apple, Check daily, weekly or monthly, if available update new sites. Also, for some applications, users can set the option notification, But without installing updates (this is up to the user).
If you wish to disable automatic update of all applications installed in the system, Click the button Disable All displayed at the top of the application.
Download Update Freezer for Windows.
Note: The application supports programs such as Adobe Acrobat Reader, Flash, Firefox, Apple, Java, Google, Skype yes Windows and is compatible with Windows XP, Windows Vista, Windows 7 and Windows 8/8.1
STEALTH SETTINGS - Control automatic updates of apps in Windows with Update Freezer
Controls automatic updates of applications in Windows with Update Freezer