Depending on applications used (whether it be media players, text editors, Photo View etc.) to view, read and edit various types of files, they must have some formats consistent with those applications. If the file format is not compatible with an application, the file is not playing correctly or not play at all.
In situations where users do not have applications that render certain file formats, they can choose between two solutions: install compatible applications with the respective formats or, more simply, to convert incompatible files Fiser with existing applications compatible format.
Although there are many applications that allow users to convert various types of files in different formats, many of whom are skeptical about using these software or simply can not install (especially true for used computers at work, school or other public places that usually have set some restrictions). Convert Files is a Free online service that unlike the applications that usually limited to a single type of file conversion (audio converter, video converter, text converter, image converter and so on) can convert almost any type of file in various formats.

How to use Convert Files?
Convert Files is very easy to use even for users not very advanced, and offers two options regarding files to be converted:
or select the file you want to convert directly from PC
or download file you want to convert from a specific location on Internet
Then, depending on the type of file selected choose the format in which it is to be converted Fileto have a list of supported file types and formats that can be converted), and click the button Convert.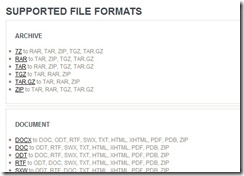 In addition, Convert Files offers users the possibility to send in e-mail a link to the converted file, available 24 hours a day, so that it can be accessed from any PC with internet connection.
Convert features Files:
process files up to 200 MB
offers over 330 to combinehold between input and output formats
upload files for conversion are destroyed as soon as the conversion is complete. They cannot be accessed by any other Convert user Files. Converted files are assigned unique links, Made known only to the user who made the conversion, which after 24 hours are deleted from the server and converted files are also destroyed. Also, the user can manually delete files converted 24 hours elapsed before checking option Delete output file
offers support links http, https or ftp
To use the online service Convert Files enter site http://convertfiles.com
STEALTH SETTINGS - Convert audio, video, photo, archive and document files with Convert Files
Convert online audio, video, photo, archive files and documents with Convert Files