Users who want to create Bootable USB sticks to Windows install from, have enough applications that allow them to do so to choose from, including Microsoft's official application, Windows 7 DVD / USB Tool.
Although most of these applications do their job quite well, the only problem is High transfer time a ISO image pe USB Stick. Rufus is all free application which allows creating bootable USB sticksThe only difference from the rest of these applications such as transfer speed, Two times higher than that of Universal USB Installer, 7 Windows USB / DVD Tool or UNetbootin.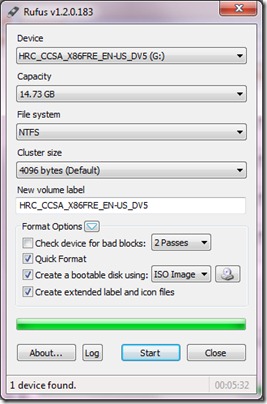 The application does not require installation, Simply a run si Select USB Stick you want to make bootable, then browse and select ISO image you want to transfer on USB stick.
In addition, Rufus allows users to work on a system that has OS installed, Install (flash) a BIOS or other firmware from DOS or run a low-level utility.
Apart from Windows XP (SP2 or SP3), Windows Vista, Windows Server 2003 R2, Windows 7 si Windows 8, Rufus supports Arch Linux, Hiren's Boot CD, Parted Magic, NT Password Registry Editor, Knoppix, Kubuntu, OpenSUSE, CentOS, Fedora and other Linux distributions.
STEALTH SETTINGS - Quickly create bootable USB Sticks with Rufus
Quickly create bootable USB sticks with Rufus