In recent years, ISO images have become increasingly popular among users of computersThey are used mainly for installing of programs or backups. Also ISO images is a way Internet distribution a Application packagesThey can contain a large number of files.
Folder2ISO is a free application, portable (No installation required) that allows users to quickly and easily create ISO image from content of folders.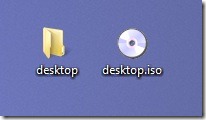 How to use Folder2ISO?
start the application and click Select Folder to select the folder whose content you want to convert into image. iso
then click on Select Output to select the folder where you want to save the iso (Attention! Folder where you save the created iso image should not be the same as the folder you create iso image)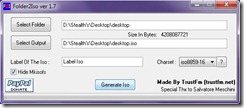 options selected and Charmap the ISO image created (click on the ? to see which is the corresponding charmap each country / region)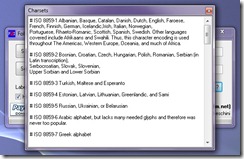 then click on Generate ISO
when the iso is complete, a window will appear with the message All Done!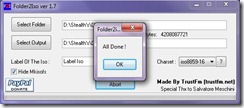 to check if the iso is Functional and contains all the files in the folder that was created, mount the image in a virtual unit (To recommend this free application Virtual Clone Drive)
Folder2ISO is a simple solution and available whenever you have to do backups, you'll want to change or ISO image you want to upload a large number of files on the internet.
STEALTH SETTINGS - Create ISO images from Folders with Folder2ISO
Create ISO image from folders Folder2ISO