One of problems which Apple still not resolved in terms iPhones it is ongoing call volume (in-call) That leaves much to be desired. Including the latest iPhone launched, namely iPhone 5 (Which has different hardware from previous iPhones) with in-call volume gave the maximum, many users complain they can not understand why people say that discusses when it is in a somewhat noisy environment.
volume Amplifier is a application for iPhone 5 (Does not work on earlier models) which allows users to grow apelurior volume underway (in-call volume) And to 200%So that discussions can be held even in noisy environments without any problem.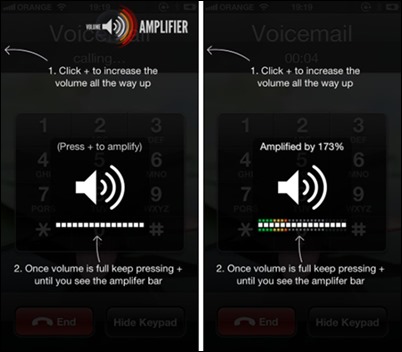 The application does not need configured after installation (this does not display any icon in Dr. appAsher). Users simply need to press volume Up during the first telephone conversations after installation (first time you use volume AmplifierWill be shown several instructions of the application) to set the volume as desired.
Users who want to use Volume Amplifier must have iPhone look jailbreak (The application is available in category BigBoss in Cydia) And be willing to spend $ 1.99 to purchase it.
Note: We recommend setting volume between 120% and 150%; in-call volume greater than that distorts the voice of people who wear the phone call.
STEALTH SETTINGS - Increase in-call volume up to 200 5% on iPhone
Increase the volume of calls in progress up to 200 5% for iPhone