The biggest minus of mobile (smartphones or tablets) is short lifespan a Battery and the fact that it can be Consumption extremely fast by some applications, processes or activities run on these devices. Also, Internet connectionsWhether it is WiFi or mobile dataAre consuming the battery. In the case of active WiFi connectionEven if you are not connected to any network, All device battery is consumed because the system periodically check if your device is in coverage of any access point.
If you often forget to turn off the WiFi connection pe Android device of equipment when you go out of range of the network that you are connected, you probably noticed how much does this affect Battery life the device. To save battery, or solution oblivious is very simple to use application Wireless Manager.
Wireless Manager is a Free Android application which automatically disables WiFi on devices running this operating system when they get out of range of the network they are connected.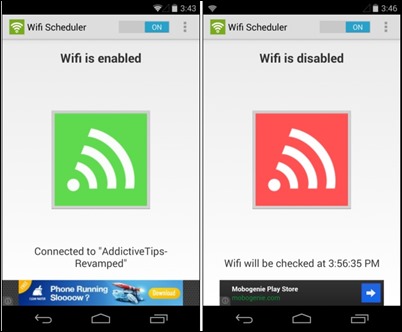 How does Wireless Manager?
When the device disconnects from a wireless network, The application waits for a period of time (which can be configured by users), After which Disable WiFi connection the device. Also, after a while, configured by the user, the application can automatically reactivate WiFi connection and check if available networks which can connect with device (and during which WiFi will remain active and seek network connection is configurable by the user).
Download Wireless Manager (via Google Play).
Note: The application has a pro version which does not display advertisements, and has several feature additional sites such as disabling automatic connection when WiFi or Airplane mode is the ability to view istoreia connections to various wireless networks.
STEALTH SETTINGS - Save Android battery life by auto-disabling WiFi connection When out of range
Increase battery life on Android automatically disabling WiFi connection when you are out of coverage