In Windows 8When we introduce a passwordOr to access a metro applicationOr log on to our website, To the right of where you enter the password field that appears button (Imafinea graphic of an eye) that allows users to display characters of which it is composed.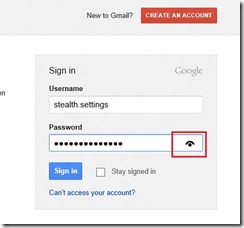 Although it may be helpful to users when they are not sure they have entered the correct password, it can be a big drawback for those who care their privacy and do not want other users of the computer that introduced passwords to access them. For this reason, the best solution in terms of security passwords for personal accounts is Password Reveal button off (show password).
How can we disable the button that allows the display of passwords in Windows 8?
open Run (Simultaneously pressing keys Windows + R), Type gpedit.msc and press Enter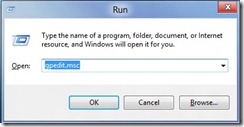 in Local Group Policy Editor, Navigate to User Configuration> Administrative Templates> Windows Components> Credential User Interface
in the right pane double-click the entry Do not display reveal password button to open settings these
in default mode, the input value is set not Configured. Select Enabled and click on OKThen close the Group Policy Editor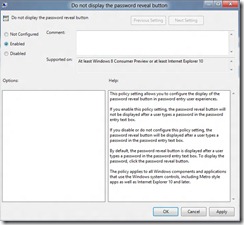 And ready. From now on when you enter a personal password, button Password Reveal will not be displayed on the field where you enter the password.
Note: To reactivate button that displays characters password, follow the same steps described above, and select Disabled or Not Configured
STEALTH SETTINGS - How to disable Reveal Password button in Windows 8
How to disable the Reveal Password button in Windows 8