It is highly advisable to have the operating system up-to-date, especially when it comes to a system Windows, Which is known to be Full of vulnerabilities.
Beside Security updates, those that bring improvements And nFunctions In the system, come and go Driver updates. Updates to Intergrated video card (Intel) Dedicated video card, soundboard, Network (LAN), webcam, Etc drivers.
It is very good for them to be updated, only sometimes they appear Unpleasant surprises. A newer version of a driver Work with problems or Weaker performance than The old driver or the original. In most situations faulty operation An updated driver appears at laptopAPIs and Calculate the older ones, Running Windows 10.
The operating system architecture Windows 10 Is largely supported The original drivers For the components hardware Of your computer or laptop, even if it is Old 5-6 years. But if through Windows Update Center updates are found, these hardware components will receive the latest driver versions. Versions that can run with Weaker performance than Older versions or the Original drivers.
A concrete example is the driver update For the intergrated video card (Intel HD Graphics) On a laptop Lenovo Old 5 years and a half. With the original "Intel VGA Driver"- a version of 2011 - Graphics performance in games and applications is much higher than with the updated driver.
The problem is that once updated, Reinstalling the old version of the driver over the updated one Is not a solution until after The next update or restart System Windows 10. In order to permanently maintain the old driver version for a certain hardware component, we have the option to deactivate its updates and return to Previous version.
How we return to the previous version of a driver and how we disable its updates
If you are not satisfied with the update received for the driver of a live hardware component Windows Update Center, you can Returned to the previous version and to Disable the upgrade to the new version.
Let's say it is the updated driver of the Intel HD Graphics integrated video card.
go to computer Management > Device Manager, and here we identify the component we want to do downgrade The driver. In our case, Intel HD Graphics 3000.
Select the component and right-click, then click "Properties"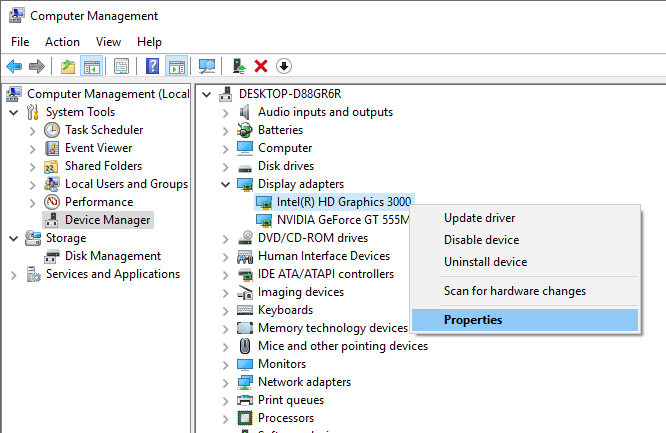 In the Intel HD Graphics 3000 property panel, click on the "driver"Then click the"Roll Back Driver"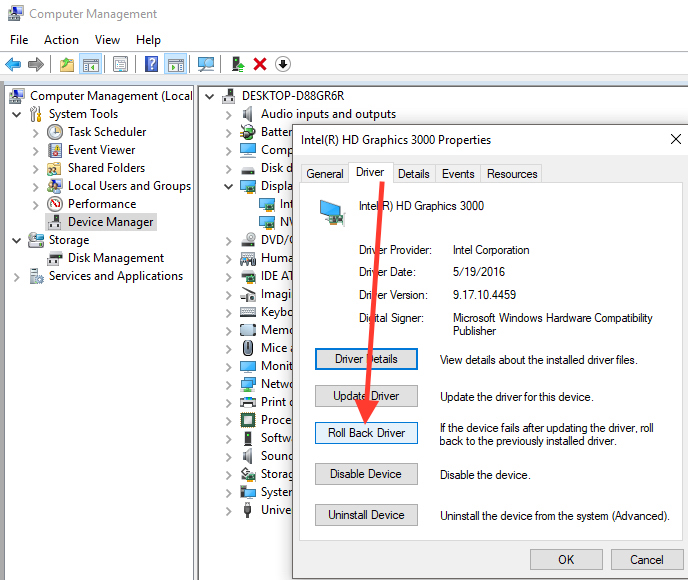 This option will uninstall the new driver and automatically install it the previous one. Check the "Previous version of the driver performed better"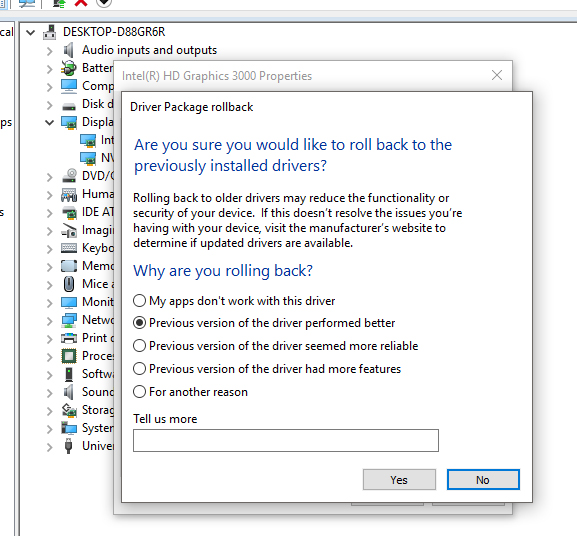 Click "Yes"To start the roll back process. After finishing, Restart the operating system.
OS Windows 7 allow blocking an update from Windows Updates CenterBut Windows 19 has a slightly more aggressive system that forces updates without its user's will.
How to disable a driver update on Windows 10