What is a Windows 10 S?
Microsoft created this version of Windows 10 in the idea of ​​giving users a plus of security and stability on computers and laptops. The target of this project was the students, though, though Windows 10 S is a variant derived from Windows 10 For, this is very restrictive. In the Windows 10 S you can not install third-party applications or software, than those delivered via Windows Store.
For example, as the default browser for accessing websites, on Windows 10 S is set Microsoft products Edge. You will not be able to install it Google Chrome, Mozilla Firefox, Opera or any other browser on this version of Windows. neither macwould the default search engine set Bing, can not be changed in Microsoft Edge. If you want to search for something on Google, you must first go to google.com, then perform the desired searches. Directly from the browser's search bar, they will be delivered to you from the Bing search engine.
Therefore, applications of all kinds can be installed only if they are present in Microsoft Store and are verified.
Windows Defender Antivirus is included in Windows 10 Yes, but there is little chance that a closed system can be infected, on which not much can be done. Than simple browsing and Office.
In the following table / screen shot we have the list of characteristics and differences between Windows 10 S, Windows 10 Pro si Windows 10 Home.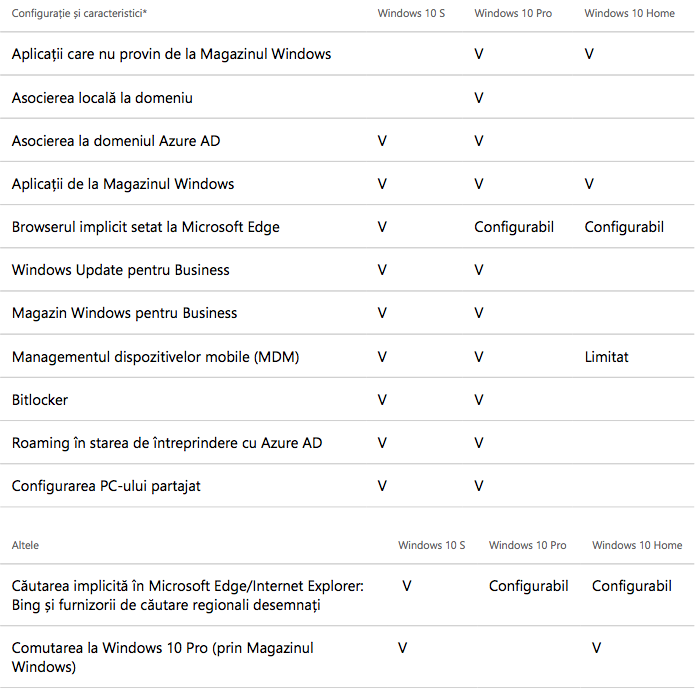 As I said even more true, big differences between Windows 10 S si Windows 10 Pros, I'm not. At least theoretically. Technically we are dealing with one difference. One and good. Unable to install third party applications on this version of Windows. Another drawback is the inability to run programs Win32, even if they are present in the Store.
The problem with Microsoft is that this system is safe and stable, but user needs Windows 10 To far exceed the resources offered in Microsoft Store. The online application store Windows to Microsoft. Something similar to the App Store for Mac.
In this regard, the American company decided to allow those who purchased devices with Windows 10 S to be able to upgrade for free to Windows 10 Pro. Especially since the schools have started, the academic year is also close to the beginning, and the students need more applications than it can offer at the moment. Microsoft Store.
Upgrade from Windows 10 S la Windows 10 Pro can be done for free. Initially, the American company announced that this upgrade will be available free of charge until the end of 2017, but in a recent press release, this period was extended until March 31, 2018.
How to upgrade from Windows 10 S la Windows 10 For
The upgrade can be done from Microsoft Store, carefully following the steps necessary for this operation. You don't need to be an IT expert to upgrade from Windows 10 S la Windows 10 Pro to come out like a book.