Windows XP Repair The simplest solution is to put into practice when the essential files OS have been modified due to Virus or incompatible drivers. Process largely repair of Windows XP is similar to that of installation. Compared with the installation al Windows XP (Installing Windows XP), Repairing Windows XP keeps us all programs installed si personal files located on the system partition (under My Documents).
Before you begin, you must have at hand a bootable CD Windows XP, series (license key) And in some cases the motherboard CD (Motherboard Installation CD).
Repairing Windows XP.
1. Start the computer and insert the installation CD of Windows XP.
2. enter BIOS to set the boot partition Primary optical drive (CD / DVD optical drive). Save Settings & Exit.
* In some cases this option is already set.
3. Black screen will appear mesjul "Press any key to boot from CD .... "Press any key to start booting from the CD. Unless you press a key while this message is present on your system ecarnul will select the next set in the BIOS boot partition.
4. Press F6 if You Need to install a third party SCSI or RAID driver ....
Depending on your system configuration you may need to install SATA or RAID drivers to start the installation process. If you use Windows XP SP2 this step can be skipped without F6 Press.
5. Windows XP Professional Setup - Press Enter to setup Windows XP now.
At this step, users are tempted to press R (repair), but this option Windows XP Professional Setup is for Recovery Console.
Press Enter to continue the Windows XP repair process.
6. Read and Accept the Windows XP Licensing Agreement.
In this blue screen are the terms and conditions of use of the product Windows XP. Not much you can do, except to press F8 to accept the terms and conditions. If you press the ESC key PC will reboot and the installation will be stopped.
7. Select the Windows XP Installation to Repair.
This screen lists the partitions that are installed operating systems. If you use dual boot you'll see that I have listed both partitions on Windows operating systems are available. Select the partition with the operating system for which we want to do the repair and press R = Repair.
8. Windows XP Setup - Deleting files …
This is the hardest step of the repair Windows XP. You do not have to do anything. Setup delete the old file system of Windows XP. How not to step 9. will not be anything interesting, you can watch TV a few minutes.
9. Setup is copying files ....
This step copies the setup installation files (installing windows files) On CD Windows XP disk.
10. Repair Windows XP - Installing Windows.
Basically in this step begins installation / repair Windows XP. Need to stand beside your PC, even when shown the "setup" is several tens of minutes. During the installation process, Windows will want to talk with you
11. Windows XP - Regional and Language Options.
Installation is almost over. In this panel you can set the language (keyboard) - keyboard layout (Very important for those who have keyboards in French, Italian, German. Keys position is not the same as EN-US layout.)
12. Workgroup or Computer Domain.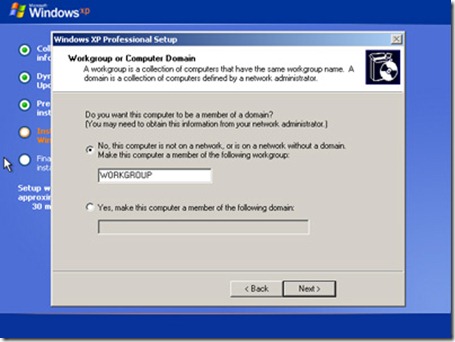 If you have a single PC on which Windows XP is installed, the correct option is: No, this computer is not on a network, or is on a network without a domain .....
If the PC is in a company or in a location where the field is used, the option is "Yes, make this computer a member of the Following Domain".
* For the last option settings or to appear soon in another tutorial.
13. Finalizing Windows XP Repair Installation.
After completing this step, complete operating system installation process. Wait until the PC will reboot.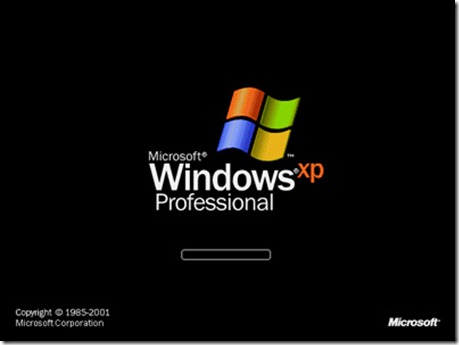 After restart you can decide which user name / user to your PC and place (the one shown in the Start Menu) and register the product with Microsoft.
Repairing & Installing Windows XP Tutorial.
How to use Repair (R) Windows XP - Windows XP Installation - Instructions