Microsoft Solitaire (Classic Solitaire) is game which was most handy for users Windows. a card game excellent boredom and loss of time. They play only with the mouse does not require knowledge of keys and computers, Solitaire is probably the easiest game for any PC user level.
Classic Solitaire was intodus of Microsoft products in all its operating systems, the Windows 3.0 (1990) up to Windows 7 (2009). Many users were disappointed by this loss, especially those who played Solitaire in the office. To the dismay of bosses, of course.
With the launch Windows 8Microsoft has removed the old version of Solitaire (Classic), and introduced Microsoft Solitaire Collection. A collection of several versions of the classics, but that comes with ads and commercials that can not be removed only after paying a monthly subscription. Quite stressful and unpleasant for those who were accustomed to the classic version of the game.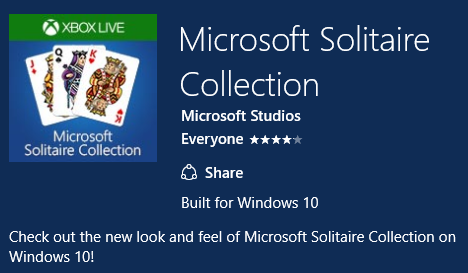 Microsoft Solitaire Collection, is available Premium in Microsoft / Windows Store, for the price of $ 9,99 - valid for 1 year, if $ 1,99 - valid for one month. Even in the Premium version, the new version does not look like the classic one.
The good news is that version Classic Solitaire it can also be "installed" on operating systems Windows 8, Windows 8,1 si Windows 10.
The Classic Solitaire game is based on just two files. cards.dll si sol.exe (Which is the executable game). All you have to do to install the classic version of Solitaire on Windows 10It is to copy the two files from a laptop / computer with Windows XP.
Let's see step by step how to install Solitaire Classic on Windows 10.
1. You must have a PC with you Windows XP and a USB stick for copying files cards.dll si sol.exe. You can also copy the two files through the network or in any other way. The idea is that the two files in Windows XP to help on PC with Windows 10.
2. go to Windows XP in the folder C: > Windows > System32 and copy the files cards.dll si sol.exe.
3. Transfer the two files to a folder on Windows 10. For example, you can make the "Games" folder on the C: a partition Windows 10.
4. Double-click on sol.exe and… free time.
So that you don't have to enter every time you want to play Solitaire in the Games folder, right-click on sol.exe and click on Pin to Start Menu or Pin to Taskbar.
Note: Do not copy the Solitaire files from Windows NOT ON Windows 10, because they are not compatible.
If for whatever reason you want to uninstall Solitaire from Windows 10, Simply close the game and delete the two files. No need for a standard uninstaller, as with other games and applications.
How to install Classic Solitaire from Windows XP on Windows 10 / Windows 7 / Windows 8