TeamViewer It is certainly the best known client "remote"The distance between two PCs and a few months, even between Mobile Phones.
Options interaction throughTeamViewer between two PCs are many, but for weaker internet connectionsInterruptions functionality are common. Connection between two PCs via TeamViewer is made exclusively by the company that owns the application servers, and for remote management between two computers on the same network (LAN), TeamViewer has better alternatives.
In our scenario we use an application Microsoft Remote Desktop for MacOSTo us connect the remote on a MacBook Pro on a Lenovo laptop OS Windows 10. Computers in the same local area network. Local Area Network.
The first step is to configure Windows 10 for Remote Desktop connections. By default, for security reasons, this option is disabled on Windows 10.
How to activate the "Remode Desktop Connection" option on Windows 10
1. We open Control Panel on Windows 10, and the search box (from right to top), we type "remote".
2. The list of options is displayed, click on "Allow remote access to your computer"
3. Under the field "Remote Desktop"Mailbox options, tick"Allow remote connections to this computer", Then the option recommended tick below it.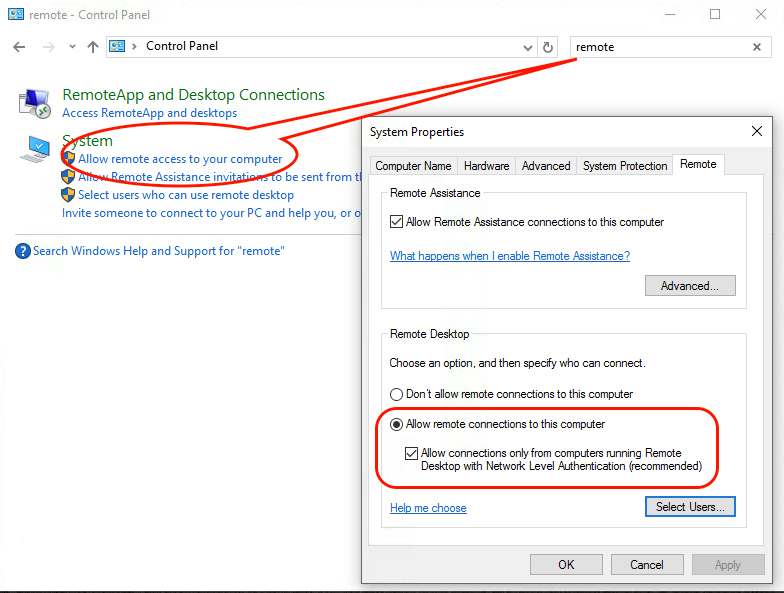 After making these settings, click on "Apply"And"Ok"To save the changes. Now supported connections "Remote Desktop" on PC with Windows 10.
Download, install and configure Microsoft Remote Desktop MacOS Sierra
It needs to installMicrosoft Remote Desktopto connect to Windows PCs on your LAN.
go to App Store and searching for 'Microsoft Remote Desktop".O download and install like any other application from the App Store.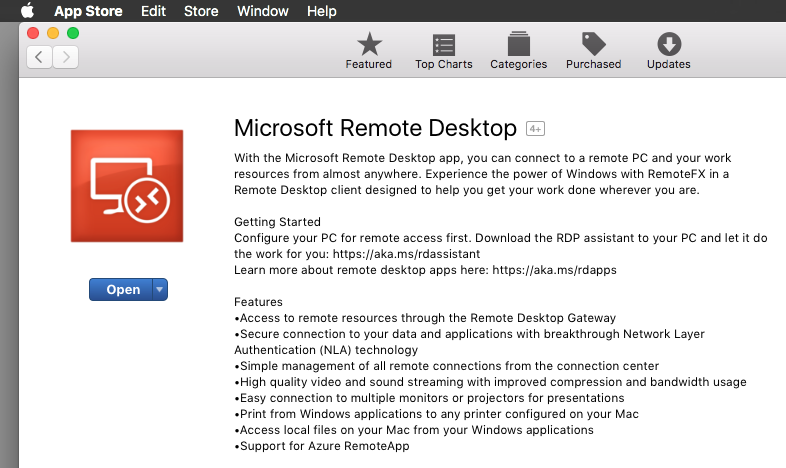 Once installed, open the app "Microsoft Remote Desktop"In LaunchpadThen configure the connection to your laptop with Windows 10.
1. click 'New"To add a new connection
2. It will complete all fields with data connection:
computer name: Move the computer a name for the set of LAN connection. This name can be chosen at the pleasure of your
PC name: Here or go the exact name of the Windows PC LAN or go directly to the LAN IP.
Gateway: Remains configured.
Credintials: pass Windows username 10 si password related user that make the connection. In most cases, this is the account of Microsoft.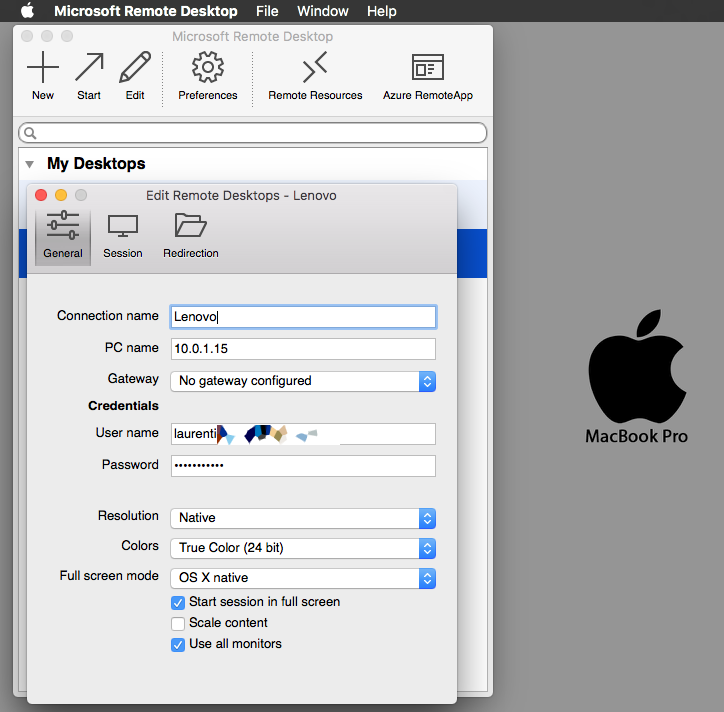 Other settings related and display resolution. You can configure depending on your system and how you want to display a remote image Windows PC on MacOS.
After completing these settings, you are ready to connect to remote control Windows 10 full PC on MacOS.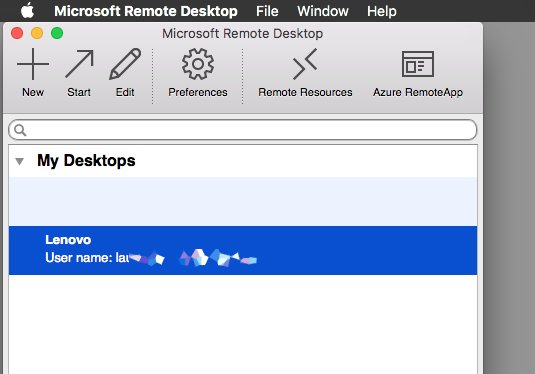 Double-click the saved connection and wait for Windows authentication.
Here's the screenshot of the connection in Windows 10, on MacOS Sierra:
You have access to absolutely all functions of Windows, as if you have Windows installed on MacBook 10.
This type of connection can help us in many situations. Whether you are using MacOS all day, and sometimes we need some operations on Windows or that have a laptop with Windows 10, whose display was broken and it can not be used (our case). :-)
How can we connect with Remote Desktop to a Windows PC from MacOS (free TeamViewer)