Google Chrome It is definitely one of the most performances and safer internet browsersBoth on OS X and the Windows or mobile phones cu AndroidBut as it is powerful as it is stressful and sometimes invade the entire suite of system Google offered services.
In a tutorial in September this year, show how you can get rid of the "invasion" of icons for Google services Launchpad pe OS X El Capitan. Here tutorial "How delete Google applications (YouTube, Google Drive, Google Search and Gmail) in Launchpad after installing Chrome on OS X"
In today's tutorial we will show how can you stop Google Chrome from opening with OS X?. After which install Chrome on OS X and will login with a Google Account, he puts his service in "startup"So that after each restart or start an iMac, MacBook Pro, Air, etc .. Google Chrome will automatically opens. The very thing that bothers users.
Stop Google Chrome on your Mac from automatically launching
There are two methods and begin with the simplest.
The first method: Open the Google Crome, and on the Chrome icon Dock make right-click (Or click with two fingers simultaneously trackpad), Then the "Options"Uncheck"Open at Login"
If this option is already unchecked, we suggest to check it, and then uncheck. Google Chrome is not opened one after restart / reboot OS X.
The second method: Open "Settings">"Users & Groups">" Login Items"> Uncheck the front of Google or even better, select Google then click on minus (–) To delete all of the service " Login items"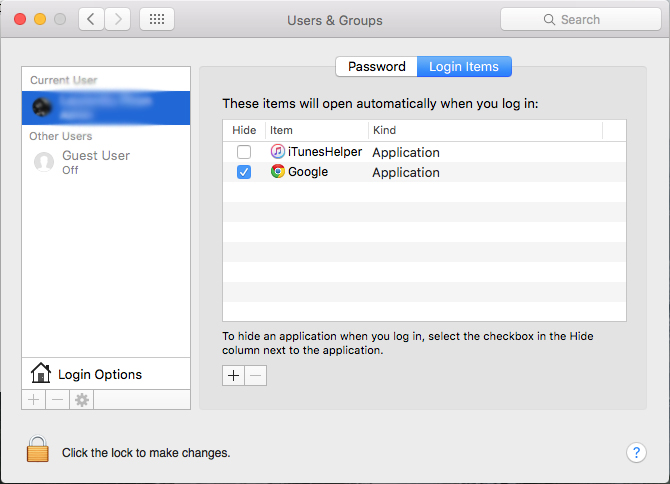 After this step, Google Chrome will not start with the operating system on your Mac. This method is applied in the scenario where the closure system you do not open Google Chrome si that choose not to be active after restart applications automatically reopened.
How do we stop Google Chrome to open automatically when OS X (El Capitan, Yosemite, Mavericks)