He went for some time when it was install an operating system Windows We needed it CD or original DVD. Let's not talk about the celebrations serial (serial key) That were needed every time we set up Windows XP Or older operating systems.
Microsoft allows all users to download and install Windows 10 without the need for a license - product key. After installing the Windows 10 you can use it indefinitely, without having to buy a license for the product. The only downside is Small limitations imposed by Microsoft for Microsoft users Windows 10. These are related to design. a Windows 10 without a license does not allow the setting of wallpapers in the dedicated interface and sends from time to time dialog boxes urging to Buying a license. Other applications can be installed, updates can be made, and all options are available Windows 10 licensed.
How can we download Windows 10 (Creators Update or Anniversary Update) ISO without license key / product key
As I said above, Microsoft allows download and installation Windows 10 even if we don't have a product key purchased.
access Official download page for Windows 10 and select the version you want to download.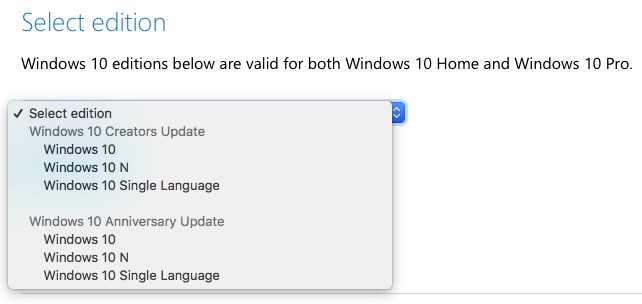 both Windows 10 Creators Update as well as Windows 10 Anniversary Update we have at your disposal: Windows 10, Windows 10 N yes Windows 10 Single Language.
After selecting the distribution of Windows 10 if desired, select the language, then we will be redirected to the download page where we choose the architecture. 32-bit or 64-bit.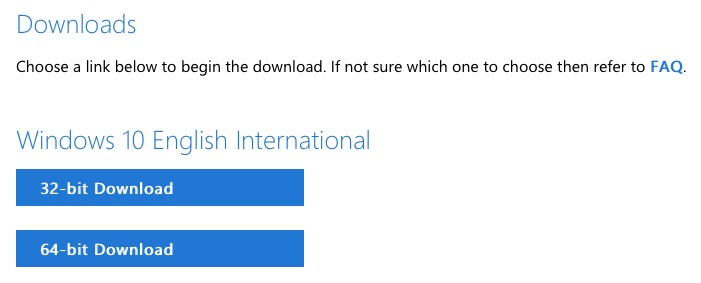 The downloaded file will be the .ISO image of Windows 10. This image can be easily passed on a USB stick from which to install Windows 10.
The installation process Windows 10 will proceed normally, to the point where we are asked to activate Windows. Activate Windows. At this step we click on "I do not have a product key"And we continue the installation process without product key.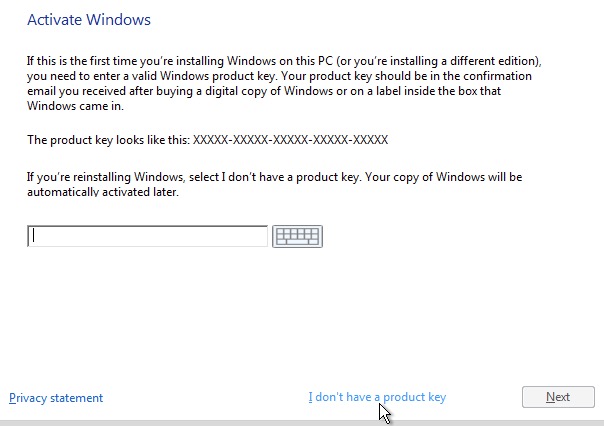 When you select this option, you can still choose to install Windows 10 Home or Windows 10 Banco Pro. Keep in mind that if in the future you want to upgrade to the paid version and buy a product key, the version Windows 10 Home costs less than Windows 10 Pro, and for a home user the differences are not very big. However, whatever version you choose, the installation process will still be the same.
In the past, at Windows XP, Microsoft used Windows Genuine Advantage (WGA) to block access to the computer to those without a license. Today things have changed a lot. Microsoft limits unlicensed users to just a few design elements and messages. "Windows isnt activated. Activate Windows now".
However, Windows 10 can be used at maximum capacity for an unlimited period. You can install applications, make updates and all operations as a product key system.
Download and install Windows 10 without product key