A good period of time, which can be translated into years, Microsoft did not give too much importance to the development of productivity on operating systems Windows. If we go back a little in time, it is easy to remember how the operating system works restartsuddenly you wonder what update and how the work of a few hours in an application comes down to a "Configuring Windows updates 0% complete. Do not turn off your computer". I was suffering many years ago, when I was doing a transfer with a large volume of data (via SFTP), and his calculation restartsure because of an update. It happens around 2012, shortly before I become a user of Mac.
With Windows 10 it seems that this policy has changed (after several hundred thousand users migrated to Linux or Mac) and Microsoft has constantly brought new elements and functions that are really useful and important for productivity.
One of new functions on Windows 10, is what allows automatic saving of open applications si their relaunch with the restart of the operating system. So if the user has text in Word, an open browser and other applications, they will automatically reopen with all the data saved, even if your PC has been shut down completely - Shut Down or operating system restartat. Specifically, the user will not lose unsaved data in case of restart or shutdown.
We cannot say that this is an innovation. On Mac this is an option default. Even if a power outage occurs, a iMac will resume the work process as it was before the sudden shutdown.
How can we set it? Windows 10 to reopen the started applications and everything that is sakvat in them, at the time of closing or al restartcommunity.
1. First we must have Windows 10 updated to the latest version. We check or update Windows 10 from: "Settings"→"Updates & Security"→"Windows Update".
2. Go to "Settings"→"Accounts"→ in the bar on the left we click on"Sign-in options".
Many security options have been introduced in this section for users of Windows. From options biometric authentication ( "Windows Hello Face","Windows Hello Fingerprint") And up to options restarthas applications. The latter options interest us, so in "Sign-in options"We run to the bottom at"Restart apps"And activate the option.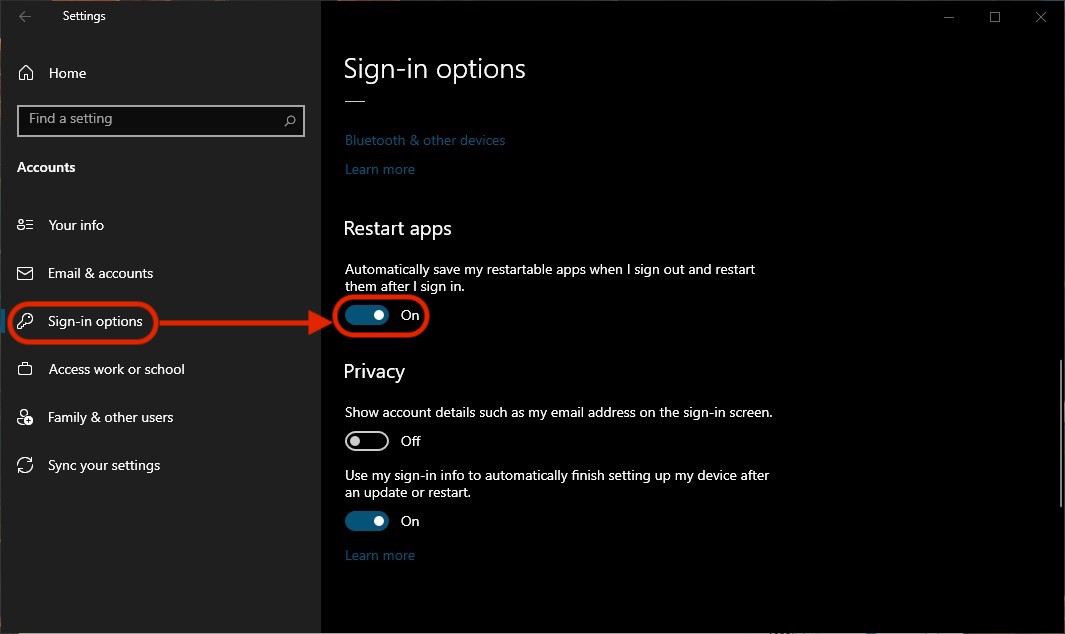 Note, however, that not all applications support this feature Windows 10. There are only a number of applications, which we call "restartable apps "that support this feature.
The option "Automatically save my restartable apps when I sign out and restart them after I sign in"Was part until the May 2020 update of" Privacy "→"Use my sign-in info to automatically finish setting up my device after an update or restart".
With the option "Restart apps "enabled, applications opened manually on Windows 10 will be reopened automatically after restart or after restarting the PC. This option will have no effect on startup applications.
This option can be activated and deactivated quickly from the "Start menu" → "Power"→"Restart apps after signing in"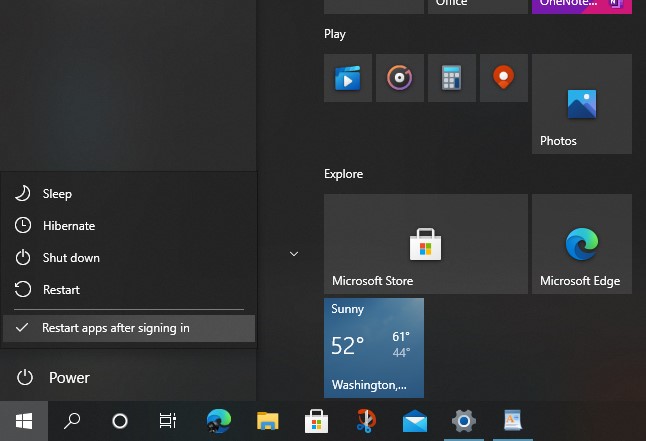 Although it is a very good option for productivity, many users find it annoying. If we have modest hardware resources, the simultaneous reopening of several applications when restarting the operating system will require a longer waiting time.