Computer attacks take many forms. From infected applications that you install after they have been downloaded from unreliable sources to multiple forms of phishing through which confidential and valuable information is stolen. A first step to protecting your online accounts is to learn how to protect passwords against phishing.
It is said that the best "antivirus" against online attacks is the awareness and vigilance of users. Awareness. Almost all phishing attacks are successful when the targets demonstrate naivety, ignorance and inattention.
Fortunately, Apple, Google, Microsoft and other big online players, make considerable efforts to protect users. From limitations of operating systems and installation of insecure applications (where Apple are famous), up to two-factor authentication (Google Authenticator) and password protection solutions, integrated into the operating system. Everything is to know and to want to use these existing security means, which can help us against the theft of passwords, identity, bank card data and other personal information that can be exploited. For money.
How to protect passwords against phishing on Windows 11
Starting with Windows 11 22H2, Microsoft introduced the feature Enhanced Phishing Protection in Microsoft Defender SmartScreen, for protecting users against phishing which aims account passwords.
This protection works in the form of a module included in the security system of Windows 11, and monitors the use of passwords at school or at work.
The system Enhanced Phishing Protection acts in three directions:
1. Alerting users when enter the password from work or school, on an unsafe or considered dangerous site, which the user accesses in any browser Chromium. Microsoft Edge or Google Chrome.
This protection is very important for users who use identical passwords both for work or school applications, as well as for access to social networks, blogs, forums or other applications. The recommendation is to have unique passwords for each account or service you log into. Change the passwords that are used both at work or at school, as well as on websites or insecure applications. It is a very effective way to protect passwords against phishing.
Microsoft Defender SmartScreen will request a password change if it detects its use at work and on insecure websites.
2. Alert in case Microsoft account password used at work or school, it is also used on other websitesor applications. In the Microsoft account, very important data and documents are stored, especially by users OneDrive si Microsoft 365.
3. It is almost impossible for a user to remember all accounts and passwords for social networks, e-mail, forums, websites, if they are unique. It is recommended to use pass-type applicationsword manager and in no way save them in text files, such as: Notepad, Word, OneNote, Evernote or similar.
Enhanced Phishing Protection detects when a password is saved in this type of application and warns the user.
In Windows 11 Insider Preview Build 25324 an alert of the type "dialog box" when the user copy/pastes a password in an insecure application. Unsafe password copy and paste warnings. Password reuse is a security risk.
Option Windows Security, Password reuse is a security risk it is currently available only for some users Canary Channel.
The other options, however, are available to all users of Windows 11.
How to activate Phishing Protection for passwords in Windows 11
1. In the search bar from taskbar or Start, write "Windows Security" and open the application.
2. In Windows Security go to the left side "App & browser control", Then the "Reputation-based protection settings".
3. In Reputation-based Protection Settings activate the options below Phishing Protection.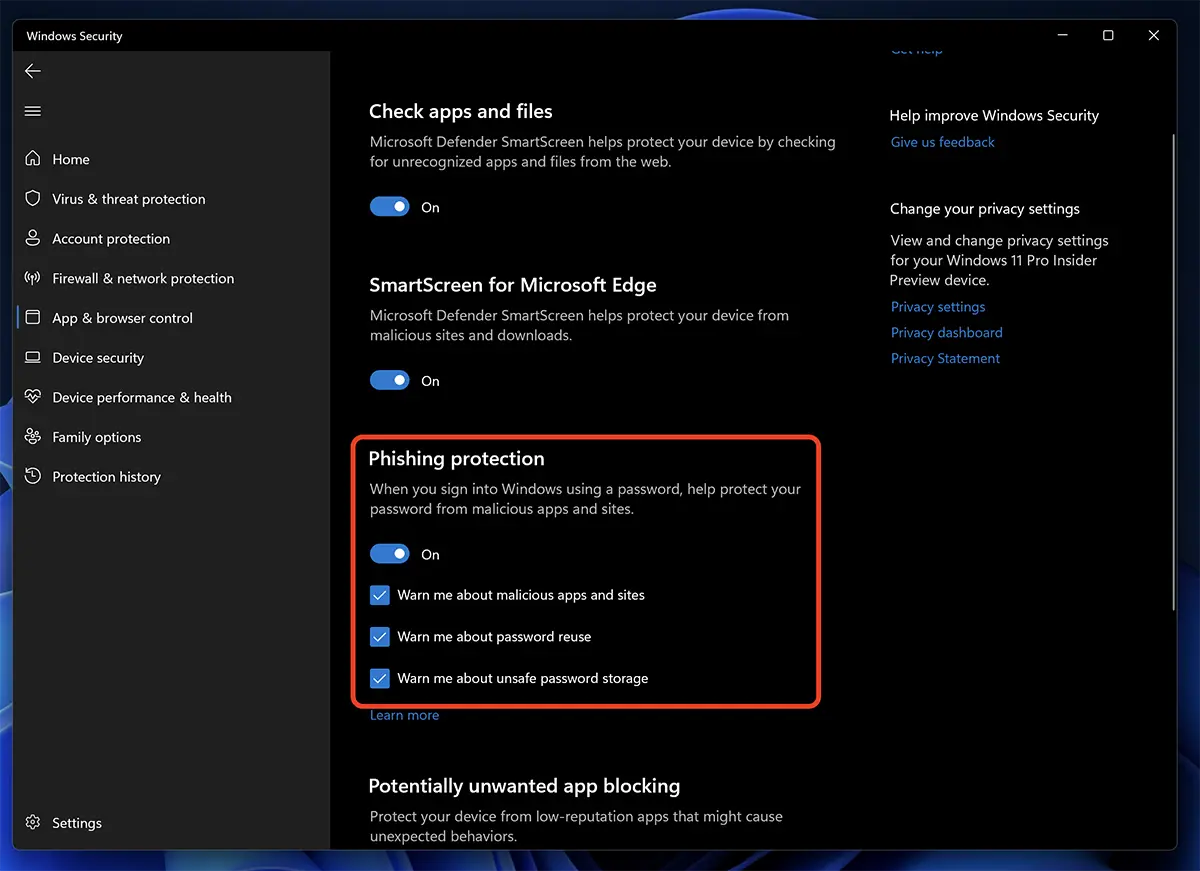 Once these options are activated, you will be alerted if the password used for authentication on Windows 11 is also used for authentication on websites, online applications or other insecure environments. Unfortunately, there is not currently an extensive system that detects passwords used on compromised or insecure websites, such as Apple provides support on Mac si iPhone.
Related to protection against phishing, you may also be interested in the following articles:
Conclusion: How to protect passwords against phishing on Windows 11
The key word is: ATTENTION. Do not use your personal or work e-mail address for registration on forums, social networks and do not use identical passwords under any circumstances. For insecure or less important environments, it is good to have a dedicated e-mail password and passwords different from those used for banking applications, at work or at school.
Choose strong passwords, consisting of combinations that contain uppercase letters, lowercase letters, numbers and special characters.
Enable two-factor authentication or biometric authentication where these options are available.
Awareness.