Since its inception in 2007 by Microsoft products, SkyDrive became one of the most popular online storage servicesIt offers all users 7 GB free storage space (With the possibility of increasing the space extra cost). Initially, SkyDrive was accessible to users via applicationsAvailable for the majority of mobile platforms or desktop-hateBut with the launch Windows 8 si Windows Phone 8It has become integrated service in OS.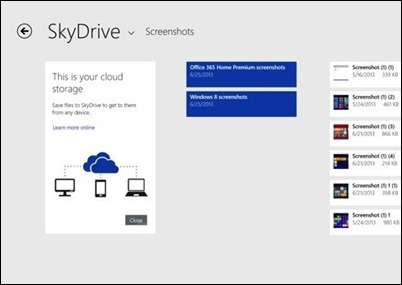 Windows 8 comes with a application (Modern) built-in for SkyDriveThrough which users can access files stored SkyDrive.com. In Windows NEVER Preview, SkyDrive integration has been greatly improved, now offering free service Office applications such as Word, Excel, Power point si OneNote directly in browser with the help Office Web Apps. In addition, users now have the possibility to access offline files stored in SkyDrive account, Both of modern interface system and the SkyDrive folder created in the system.
users Windows NEVER Preview who want to be able to work with files stored in SkyDrive even when they have access to a an Internet connectionCan follow the instructions below to make those files available and offline.
open SkyDrive from Star ScreenThen click Settings menu thereof (Settings) of Charms Bar
under section Options, Turn Access all files offline dragging the slider from off towards On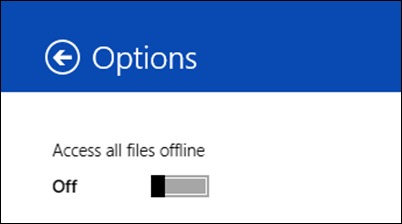 Immediately after activating the respective option, SkyDrive will begin downloading files stored online the PC. Alternatively, users can activate offline access to files on SkyDrive from Windows Explorer (or File Explorer). This method is recommended if you wish to access offline just certain files stored on SkyDrive account:
in File Explorer, Navigate to the folder SkyDrive
then right click on any subfolder containing it and click Make available offline menu displayed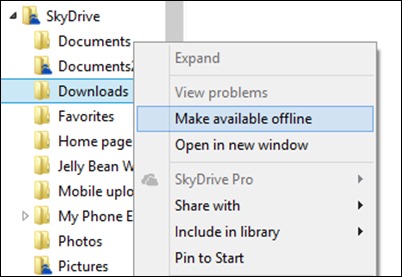 files contained in the subfolder will be Instant download SkyDrive PC
You can also create a separate folder in which to move only files that want to access offline, Then make that folder accessible even when you do not have Internet access.
STEALTH SETTINGS - How to access SkyDrive files offline in Windows NEVER Preview
How can we access offline in Windows 8.1 Preview files stored in SkyDrive