From improvements with which he came to the pack Windows 8, we can say that it is at the top of the list speed of the operating system, Much higher than previous versions, whether we refer to boot speed or speed transfer / copy files. In addition, consume fewer system resources.
Regarding the speed new operating system, one of new features of al Windows 8 is Fast Startup, Feature which, according Microsoft, It comes in helpful for users who prefer to shut the whole system rather than put it in hibernation. When Fast Startup is activated, Windows 8 boots in less than 6 seconds on a SSD (Solid State Drive).
How Fast Startup Works Windows 8?
To start your computer faster after a Shutdown, when Fast Startup is enabled, Windowshe saves information system in a file just before closing it. After we turn on the computer again, Windows 8 uses that file to summarize system processesWithout restarting them.
Fast Startup is enabled by default in Windows 8But most likely are also users who want to check this or that want to disable this feature.
How to enable / disable Fast Startup in Windows 8?
in Start screen (Start Screen) Use the key combination Windows + W to activate the function Search (Also, you can use Search site menu Charms)
in Search type power OptionsThen give Enter (Or select Power Options in results shown on the left)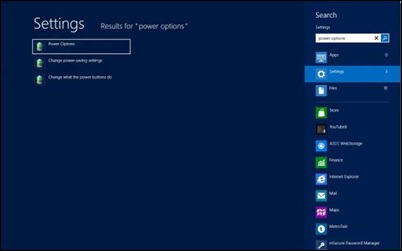 in the open window click on Choose what the power buttons do (Left panel)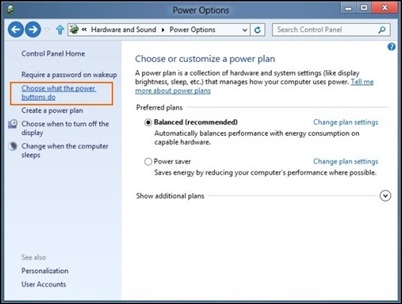 Click on the option Change Settings That are currently unavailable
under Shutdown settings, Check (to active) Or uncheck (to disable) Box to the right Turn on fast startup (recommended)
Note: Fast Startup does not work and if restartarii system. For Fast Startup take effect, you must shut down the computer (shutdown), then start it again.
STEALTH SETTINGS - How to enable / disable Fast Startup in Windows 8
How can we enable / disable Fast Startup in Windows 8