Lately, the use online storage services (dropbox, Google Drive or Amazon Cloud Drive) Has become increasingly popular, and microsoft even built its own service of this kind, namely SkyDriveIn the most recent Windows. However, of all online storage services, The one that adds the option to send files directly to the cloud using sub Send to (from right-click menu) is Dropbox'sWhich means that people who use (and) other such services must give copy / paste (or drag & drop) Files in folders their services because they are saved in the cloud.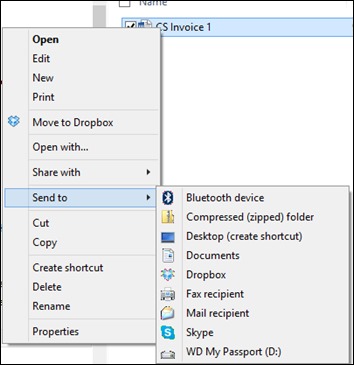 How do we add Cloud locations in the Send to menu in Windows 8.1?
First, you have to Enable viewing hidden files the system (to do this, open Charms menu, type hidden files in the field below Search, Click on the first result displayed then select Show hidden files, folders and drives)
then reschideti Run (Windows + R), type shell: sendto and give Enter
from navigation panel displayed in the left File Explorer, Select the service you want to add to the Send to menu by right-clicking the folder and drag them SendTo Open early, then click on the option Copy here
And ready. In this way, you can locations added cloud for online storage services used the Send To menu in Windows 8.1.
Note: While most online storage services creating simple shortcuts to adding them to the Send to menu, SkyDrive will add a copy of the entire folder, including all files stored in it. Therefore it is recommended to add directly to a sortcut the folder.
STEALTH SETTINGS - How to add Cloud locations in the Send To menu in Windows 8.1
How can we add locations Cloud Send To menu (Context Menu) Windows 8.1