Unlike computers come bundled with Windows 7 or previous Windows systems, Computers that have Windows preinstalled 8 not displayed license code the latter's case. The reason is that manufacturers of computers with Windows preinstalled 8 included license code (product key) in BIOS their not needing to re-code each time reinstall system. But in some circumsante, users will want to find the code (for reinstall the system on another computer or various other reasons).
How can we display the Windows license code 8?
Users who want to know license code of Windows 8 came bundled with the new computer bought, they provide more applications that identifies and displays the code.
One of these applications is Belarc AdvisorWhich among other information supplied system, displays and used to activate the license code thereof.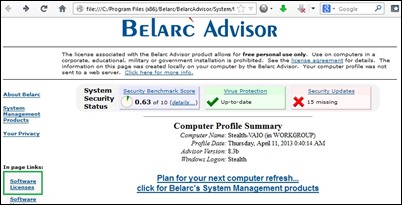 But if you want an application that strictly only to display the Windows license code, Try Windows Product Key Viewer 8Available to download on My Digital Life Forums.
application does not require installation (Is portable) and license to view the code, your first have to check KEY MSDM. To copy code, click on the button Copy found in his right.
Download Windows Product Key Viewer 8.
Note: In order to download the Windows Product Key Viewer 8 is necessary to create a forum account My Digital Life. The application is compatible with Windows 7, Windows Vista and Windows XP.
STEALTH SETTINGS - How to display Windows product key 8
How can we display the Windows license code 8