Many users Windows tend to stick system mode Hibernate instead of giving Shut down its main reason being to be able to continue working where they left when they will open again computer (documents si applications used are already open and the user will not have to initialize them again). Also, sometimes booting Windows 7 may take a long time, while mode Hibernate this "wakes" faster.
If you are using Windows 7, You know that Power options the system can be quickly accessed from Start Menu (Same as in earlier versions of Windows), and the default button in this display (Start menu) is Shut down. And sometimes, it can happen (in haste and / or mistake) that instead select Hibernate From the drop-down button displayed next Shut down, To give directly click on Shut DownSo to lose hours of work or, at best, only need to search and re-open all the files and applications necessary when you start again WinXP. To avoid such situations or simply to have faster access to HibernateYou have the possibility that instead of button Shut Down to display Hibernate option ca Power button in the Start Menu.
How do I display Hibernate as a Power Button in Start Menu in Windows 7?
Right-click an empty portion of taskbar and select Properties
feresatra displayed in click on the tab Start Menu
then, in the right Power button action select Hibernate From the drop-down and click on Apply si OK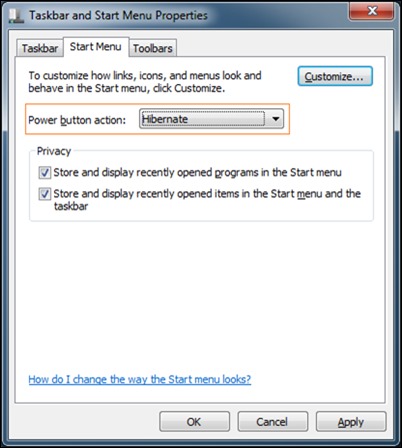 And that's it. After you make these changes, Hibernate By default it will be displayed in 7 Windows Start MenuInstead button Shut down.
Note: Tutorial valid for Windows Vista.
STEALTH SETTINGS - How to display Hibernate button in Windows as default Power 7 Start Menu
How can we show that Hibernate Power button 7 default in Windows Start Menu