One of the most s important feature sale Windows 8 is Windows Store site, Where users can install applications cu UI (User interface) to ensureOptimized for both tablets or touchscreens, as well as desktop-hate.
Users who use Windows The store to install various applications, or at least were curious to see how it looks, most likely noticed that Not all applications are visible in storeAnd sometimes, when looking for a specific application which we know for sure is available in Windows Store, we may not find it (in the best case, they will be displayed applications similar nameBut no application that). This occurs because some applications in the store are unique to certain countries / regions, Or only available in some languagesAnd in default mode, these applications will be visible only to specific users (In these regions). Default Windows Store selects which applications to display to users depending on their country or regional settingsThis feature bearing the name of Localization.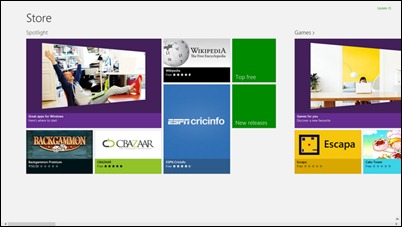 How can we display in Windows Do you store specific applications only for certain regions / languages?
If you want to test or use applications that are available only for certain regions or in certain languages ​​(different from yours, of course), you can do this disabling the feature by Location.
How to disable the Localization feature in Windows 8?
open menu Charms in Windows Store (Use the key combination Windows + C) And select Settings.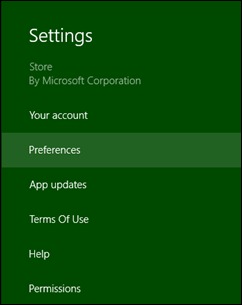 click on PreferencesThen select No for option Make it easier to find apps in my preferred language.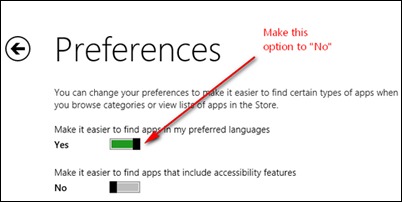 then return to Windows Store, and you will notice that it will display all your applications, without language or region restrictions.
Note: Tutorial only compatible with Windows DO NOT RTM.
STEALTH SETTINGS - How to view all the applications in Windows 8 Store
How can we display all the applications in Windows 8 Store