The main reasons for users private WiFi networks You should restrict access to them by using passwords are protect privacy si securing connectionsBut also to avoid using such networks unauthorized users (Especially if the WiFi network has limited bandwidthMost probabail want to avoid using its excess; also use a WiFi network for several users at the same time weakens the connection and decreases internet speed). Sometimes, however, secure WiFi networks with passwords It is not enough, third parties can gain access to them through various malicious methods.
Who Is On My WiFi is a free application for Windows which allows users to monitor and identify whether private WiFi network is also used by other unauthorized users.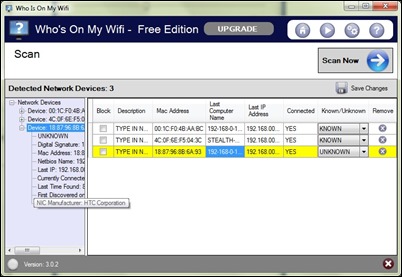 How does Who Is On My WiFi?
After installing the application, you should do first scan to identify connected devices network (click on button Scan Now); if they are known devices, it is recommended to change status UNKNOWN la KNOWN. Then you can configure the Settings ce IPs you want to monitor (if you do not know the IPs assigned to the network, the application will automatically set group of IPs detected on the computer on which it is installed) and frequency scans to identify intruders for that group (in way default scan is set to occur every 2 minutes).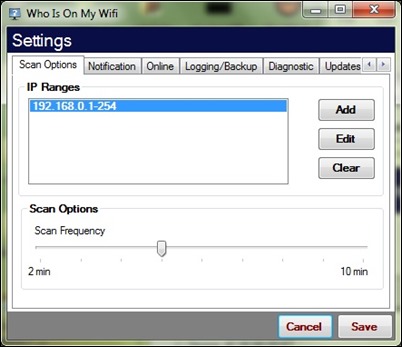 Also, you have option to set the receiving Notifications if the application will detect unknown computers or devices connected to the network (this is activated in default mode).
Who Is On My WiFi It works both for private WiFi networksAnd for the public; practical application scans ports network identification computers connected it (which might warn administrators secure public networksSuch as a hotel WiFi network, that they excluded).
Nota: Aplicatia este gratuita pentru uz personal si este compatibila cu Windows XP, Windows Vista, Windows 7 si Windows 8/8.1
STEALTH SETTINGS – How to find what users are connected to your WiFi network (Windows)
How can we find out how many users are connected to a WiFi network (Windows)