Even if systems Windows have increasingly more users, a very large proportion of them still do not know the difference between a version of Windows and another, especially if it is different versions the same operating system (e.g Windows 8). For example, are users who began using computers Windows just after launch Windows 8And they have no idea if they use Windows 8, Windows 8.1 or Windows 8.1 Update.
While the difference between Windows 8 si Windows 8.1 may be readily made on the basis of numbers these versions (6.3.9200 for Windows 8 si 6.3.9600 for Windows 8.1; to find type numbers such see or winver in Command Prompt), There was no difference in number between versions Windows 8.1 si Windows 8.1 Update. As Microsoft announced immediately after launch Windows 8.1 Update ca will cease support for Windows 8.1And users are advised to install as soon as possible Windows 8.1 Update has not to vulnerable systems la malware attacks, users who have no idea whether or not they have installed it update I can refer to the following instructions to find out what version of Windows 8 is running.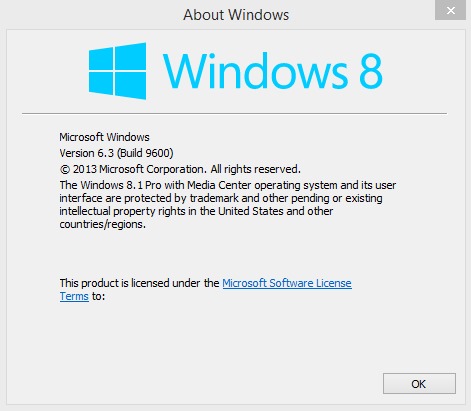 Although users Windows 8 can identify which version of the operating system been started under certain s feature available in that version (customization options or buttons Search si Power displayed on Start Screen), A surefire way to check this is:
open Windows Update in control Panel (type: Windows Update in Start Screen)
then click on the option View Update History displayed on the left
then locate the following update-hate
Feature Pack for Windows (KB2932046)
Feature Pack for Windows (KB2934018)
Feature Pack for Windows (KB2937592)
Update for Windows (KB2919355)
whether these update-hate appear in the list displayed Windows Update, It means that the version is rolled Windows 8.1 Update; if you can't find it updatelisted above means that you must install as soon as possible Windows 8.1 Update to continue to benefit from support system
If you do not have Windows 8.1 Update installed, you can install it either via Windows UpdateEither via Windows StoreEither directly from the Microsoft website following links From lower:
Download Windows 8.1 Update (32-bit).
Download Windows 8.1 Update (64-bit).
STEALTH SETTINGS - How to find out which version of Windows NEVER be running