Compared to a few years ago when it was much easier to do jailbreak a iOS deviceAt present users must take into account primarily iOS version rolled, the availability of jailbreak utilities for this and, not least, the device and OS that is jailbreak (Windows or Poppy). To assist these owners iOS devices wanting to find out if you can jailbreak their RCRepo created a utility through which it can check both iOS version compatibility installed on the device, and the device.
How can we check availability for jailbreak iOS device and iOS version installed on it?
To find out if your device version iOS run on this bear jailbreakvisit page which is available verification utility RCRepo the device (link the page at the end of the article). The utility will detect automatic iOS version used and specify whether there jailbreak tool sites compatible (for example, version iOS 7.1The only device which i can do is jailbreak iPhone 4, Using the utility geeksn0w, Available only Windows).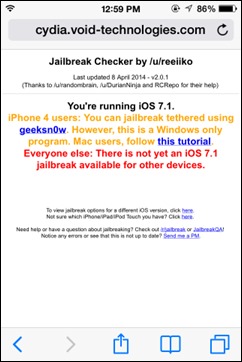 If you do not have iOS device with you, you can directly check computer visiting the same page. Verification utility RCRepo provides a table complete compatibility for everyone iOS version available, depending on the device.
STEALTH SETTINGS - How to check if your version is compatible with iOS jailbreak tools and what is available for jailbreaking the device
How can we find out if support jailbreak iOS version used and what utilities can use to make jailbreak iOS device