Certainly each user Facebook 's friends list to post assiduously various statuses/Read articles Internet /pictures that they find funny or interesting /evolution in some gamesBut for this are totally uninteresting. And when check feeds on Facebook, Most often have to give scroll over entire pages of such posts to find feeds of interest.
Most times it is falling apart "friends" on Facebook. But if you want to give Unfriend such Contact on FacebookDoes not mean you necessarily have to stand (or overlook ii) unnecessary and annoying things posted by this, nor is it necessary to avoid reading feeds us, but to Posted hide's content of the contact.
How can we hide the content of websites posted by some friends on Facebook?
hover your mouse over a friend's post that you want to hide the content of websites
click on arrow that appears in the upper right corner of the post, then select Hide menu displayed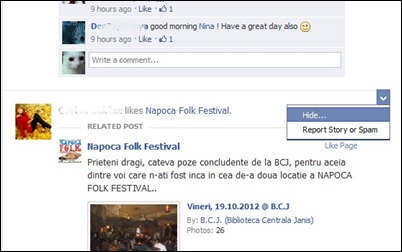 Job location will be displayed in one message stating that content that was hidden. To customize on the content of the friend you want to be hidden, and what content you want to see further into your Facebook account, click the option Change what updates you get from friend (where friend replace your friend's name), then only updates you want to get from it, or click the Unsubscribe.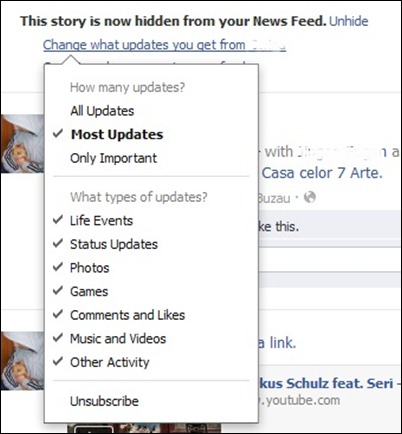 Also, if you want to edit and from which friends you want to receive updates more often, and from whom you wish to receive updates rarely, click on the option Organize who you see in neews feed.

Note: Content will be your friend only conceal your Facebook account, but will still be available to other friends of his.
STEALTH SETTINGS - How to hide content from a friend on Facebook
How can hide's content posted by a friend on Facebook