In about three weeks, microsoft changed their status upgrade to Windows 10, In "optional"In"recommended". This means that the update can install without user consent. Specifically, many users Windows 7, Windows 8and Windows 8.1, were awakened update in backgroudand restart, as they have on Windows 10 PCs. These operating systems have set as default in Update Center "install all recommended updates"
released as Free upgrade in the summer of 2015, Windows 10 has become closemandatory this spring. A little strange and aggressive decision of Microsoft to force users to use a particular operating system. On the topic gathered shortly tens of thousands of negative comments against Microsoft. And for good reason. Besides the fact that it is updated to a new operating system without the user's will, the even more tragic (and without exaggeration) is that restart to install updatesacquis comes without user consent. Imagine that work a few hours or days on an important project and you open several work programs, which closes suddenlyWithout you save any of your work For many this has happened and were not pleased at all.
However, there are two ways by which this automatically upgrade may be blocked, and users of Windows 7, Windows 8, and Windows 8.1 might be worried that one day they will suddenly wake up with Windows 10 on PCs or laptops.
The first way to prevent automatic upgrading to Windows 10 is to change the update settings in Windows 7.
control Panel > System and Security > Windows UpdateThen click on the link "Change Settings"On the left,

In the following options panel that opens, set your system to check if there are updates November, but to DO NOT automatically download and install them. This setting is for important updates. important Updates.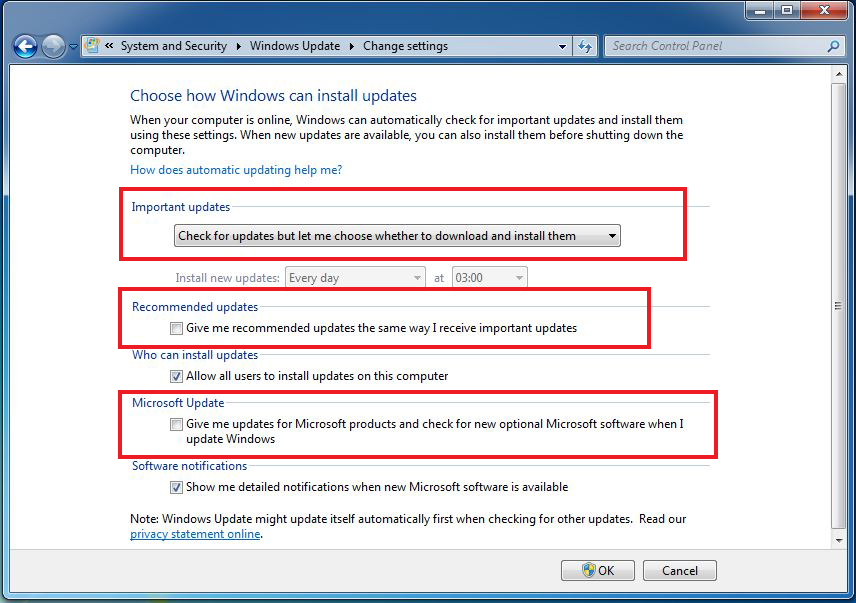 Also here, you should disable "Recommended updates"And"Microsoft Update". Click OK to save the changes.
Next you will receive updates for Windows, except that they will not be automatically downloaded and installed. You can come anytime you want in Windows Update to choose for yourself what you want updates to be installed on the system.
A second method to lock automatically upgraded to Windows 10, The application Never10. As the name suggests, Never10, it means "Windows never 10". Easily Control Automatic and Unwanted Windows 7 & 8.1 Upgrading to Windows 10. Never10 is a 100% free applicationThat helps users disable upgradeWindows operating systems for Windows 7 and Windows 8.1.
The name "10 Never" is chosen a little exaggerated, because the application gives the user the possibility to reactivate whenever it wants, updates to new versions of Microsoft Windows.

Never download 10 – external link.
The application is compatible only for Windows operating systems and Windows 7 8.1, 10 Never interface is very intuitive and can be used easily, without having advanced knowledge.
How can block installation / upgrade automatically from Windows 7, 8 Windows or Windows to Windows 8.1 10